These chocolate fudge brownies are really delicious! They taste just like the real thing. Non-keto friends and family will not be able to tell the difference.
With approximately only 1.5g net carbs per brownie, they can easily fit within your macros. 
The Sweeteners
I recommend using erythritol or xylitol for these brownies. If you have a doggy, do not use xylitol! It's super toxic to them, so don't even risk it. 
If using erythritol you can discount 100% of the carbs from the sweetener, however, if using xylitol, make sure to count 50%. 
Erythritol does not dissolve as well as xylitol during the heatnig stage but don't worry, once baked this doesn't matter. 
The cooking time
The cooking time on these brownies can be varied depending upon how gooey you want them. You do need to give them at least 15 minutes to ensure that the egg is fully cooked, but anywhere between 15 to 20 minutes is fine. 
The almond flour
Any form of almond flour or meal works well for these brownies. If you are using ground almonds rather than flour, you can give it a blitz in a food processor to make it finer. 
Keto Gluten-free Fudge Brownies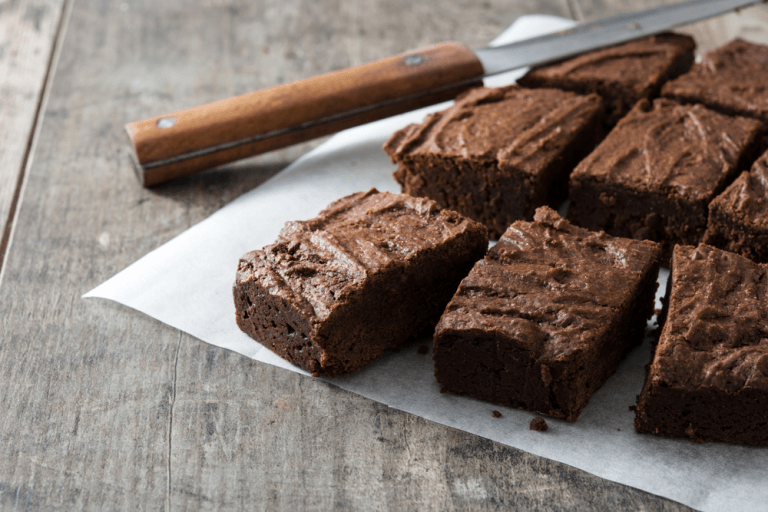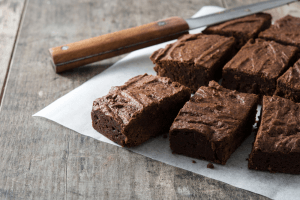 Prep Time

20 min

Cook Time

20 min

Total Time

40 min

Yield

10

Serving Size

1 Piece

Energy

83 cal
For the burger
80g butter, or you can use 8 tablespoons coconut oil and 1 tablespoon coconut cream
100g of xylitol or erythritol
50g cocoa powder
45g almond flour
1 large egg
Pinch of salt
For the toppings (optional)
100g flaked almonds/pecans/walnuts
Cooking the brownies
1
Line a baking tin with parchment/baking paper or use a non-stick baking tin. Heat oven to 350f/180c/gas mark 5
2
Heat a pan of water or use a microwave in increments. Put butter, sweetener, cocoa power, salt in a heatproof bowl
3
Heat over the stove and whisk it / take out of microwave in increments and mix each time. Keep doing this until the sweetener has melted. Erythritol doesn't dissolve as much as xylitol.
4
Remove from heat. Add in the eggs and whisk to create a smooth mixture. If using erythritol and it seems too thick, add another egg.
5
Add the almond flour and whisk in.
6
Transfer the brownie mix to a the baking tin. If adding nuts you can add them at this stage. Bake for about 15 to 20minutes depending on how gooey you want them
10 servings per container

Serving Size

1 Piece

Amount per serving

Calories

83

% Daily Value*

Total Fat

8.3 g

10.64%

Saturated Fat

4.7 g

23.5%

Cholesterol

36 mg

12%

Sodium

70 mg

3.04%

Total Carbohydrate

3.1 g

1.13%

Dietary Fiber

1.6 g

5.71%

Total Sugars

0.2 g

Protein

1.9 g

3.8%

Vitamin D (Cholecalciferol)

6 IU

0.75%

Calcium

10 mg

0.77%

Iron

1 mg

5.56%

Potassium

134 mg

2.85%

* The % Daily Value (DV) tells you how much a nutrient in a serving of food contributes to a daily diet. 2,000 calories a day is used for general nutrition advice. **Nutritional values are estimated and based off using erythritol. Always use an app like carb manager to calculate your batches exact macros.