Keto Low Carb No Oats Oatmeal Porridge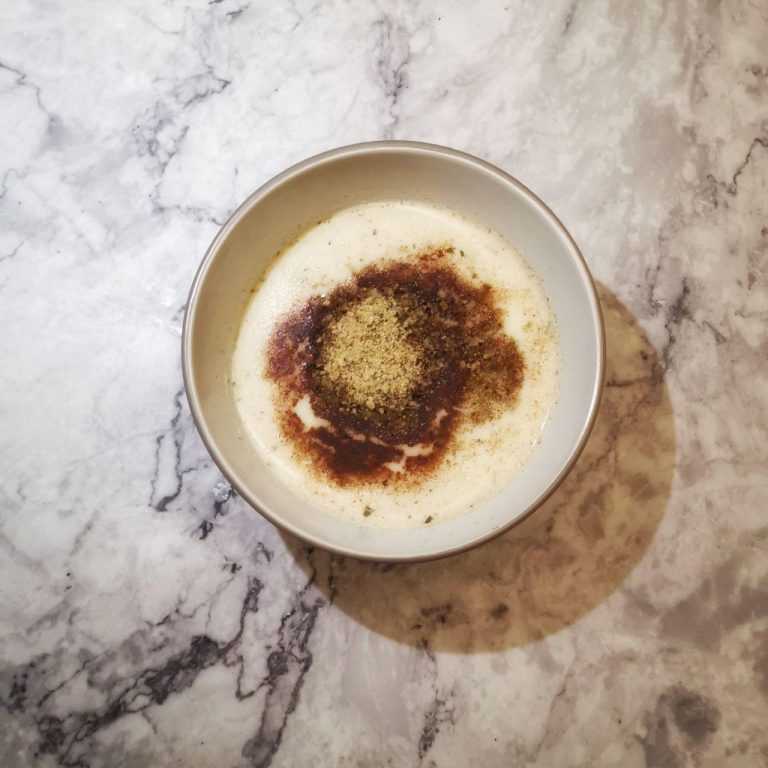 One of the things I missed the most when I first swapped to following the ketogenic diet, was being able to enjoy a warm bowl of oatmeal to help warm me up in the morning. But, thanks to this recipe we can enjoy the taste and warm comforting feeling oatmeal gave me.
While the texture of this recipe isn't the same as oatmeal, but the taste is there, along with the health benefits you get from the ground flaxseeds (also known as Linseed) and the calcium from the almond milk.
Prepping the chia seeds
The chia seeds should be raw, preferably organic as well. They need to be soaked for a minimum of 6 hours, preferably overnight. They can be stored in the fridge for 3 to 5 days, and used in tons of other recipes! For this recipe, you'll prep enough for 2 servings of oatmeal. 
Chia seeds are available from most health food stores and on Amazon. In the UK, they're available cheap in Grape Tree. 
The Ground Flaxseed / Linseeds
For this recipe, you will need to use ground flaxseeds, also known as linseeds. These can be mixed with other keto-friendly seeds such as sunflower, and pumpkin seeds. 
Ground Flaxseeds are available on Amazon, in health food stores, and some supermarkets. If you live in the UK, you can pick up flaxseed and other seed mixes cheap in Aldi or off Amazon.
When affordable, make sure the flaxseed mix is organic and non-GMO.
The sweetener
For this recipe, you should use liquid stevia in the chia seed almond milk mix as this gives the best taste and mixes into the liquid properly.
For the topping, I recommend using erythritol (branded as Swerve in the USA). Although you can use xylitol or powdered stevia. Do not use xylitol if you have a pet dog, as it is super toxic for our doggos!
If you choose to use xylitol, you will need to count 50% of the carbs in the xylitol towards your daily carb allowance. Whereas with erythritol, you do not need to count any of the carbs!
Prep Time

10 min

Cook Time

3 min

Total Time

13 min

Ready in

1 Day

Yield

2

Serving Size

250ml

Energy

258 cal
Keto Low Carb Oatmeal/Porridge
For the oatmeal
500ml Almond Unsweetened Milk
2 Tablespoons of Chia Seeds
1 squirt of liquid Stevia
4 tablespoons of ground linseed/flaxseeds
For the topping
1 Teaspoon Cinnamon
1 Teaspoon Erythritol
Preparing the Chia seeds
1
Put 250ml of almond milk in a jug, along with the 2 tablespoons of chia seeds and a squirt of liquid stevia
2
Put the almond milk mix in the fridge overnight or around 6 to 8 hours, this is enough time for the chia seeds to soak. 
For the topping
3
Mix the cinnamon and erythritol together in a small dish. 
Making the Oatmeal
4
Once the chia seeds are ready, spoon some of the chia seeds into a bowl along with 125ml of the almond milk it was soaked in. Then add another 125ml of almond milk.
5
Add 2 tablespoons of the ground linseed/flaxseed to the bowl and mix. 
6
Heat the mix in the microwave for 2 to 3 minutes.
7
Remove from microwave, and sprinkle some of the cinnamon erythritol mix on top
The chia seed mix can be stored in the fridge for 3 to 5 days. You can use this mix for other things such as chia seed pudding, smoothies etc.
Nutritional values are based on the brands for the ingredients I used and will vary depending on the brand you use. 
258 servings per container

Serving Size

250ml

Amount per serving

Calories

258

% Daily Value*

Total Fat

15.8 g

20.26%

Saturated Fat

1.3 g

6.5%

Cholesterol

0 mg

0%

Sodium

0 mg

0%

Total Carbohydrate

17.1 g

6.22%

Dietary Fiber

15.2 g

54.29%

Total Sugars

2.3 g

Added Sugars

0 g

0%

Protein

10.1 g

20.2%

Vitamin D (Cholecalciferol)

2 IU

0.25%

Calcium

478 mg

36.77%

Iron

1 mg

5.56%

Potassium

69 mg

1.47%

* The % Daily Value (DV) tells you how much a nutrient in a serving of food contributes to a daily diet. 2,000 calories a day is used for general nutrition advice.