One thing a lot of people miss the most on keto is pasta. A lot of us, just start accepting we'd never have a decent pasta dish again. But this Chicken & Broccoli Alfredo is sooo good.
The konjac pasta
Konjac is an Asian vegetable, it's used in some dishes such as Donabe and as a low-calorie jelly.  Konjac mostly consists of glucomannan, a dietary fibre that we cannot digest which makes it have an almost zero gram carb content. It's also gluten-free. This makes it perfect for those doing a keto, low-carb or gluten-free diet.
When purchasing konjac, you do need to check the ingredients to ensure they are free from any additives you are avoiding. Some may contain added starches, making them higher in carbs. But even with these additives, they're still normally less than 1g carb per serving.
For this recipe, I recommend buying konjac pasta that is shaped like Fettuccine, but you can use any shape – or even the noodle form if that's easier to get.
Here's some examples of Konjac pasta's that I recommend using. 
How to cook low carb Konjac Pasta
When you open a bag of konjac, you'll notice a fishy smell that can be quite off-putting. This smell is due to the liquid it is stored with. But this smell does go away and cooking konjac pasta and removing the fishy smell doesn't have to be hard. 
I recommend doing the following to help get rid of the fishy smell, and also stop them tasting as rubbery:
Drain the liquid entirely from the konjac
Thoroughly rinse under hot water for a few minutes. 
You can then either dry fry them, or boil them for 3 to 5 minutes, and then thoroughly mix in with the sauce.
Keto & Low Carb Chicken and Broccoli Alfredo with Pasta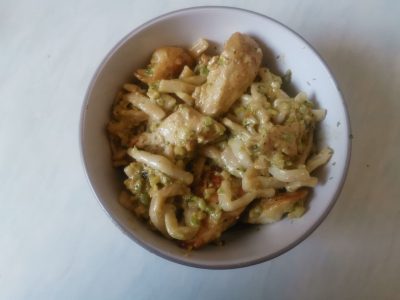 Prep Time

5 min

Cook Time

20 min

Total Time

25 min

Ready in

25 minutes

Energy

420 cal
Cuisine

Course

Suitable for Diet
Ingredients
200g Shirataki/Konjac Pasta in either Penne or Fettuccine Shape
450g Diced Chicken Breast
Pinch of pink himalayan rock salt
225g Broccoli
1 Tablespoon butter
4 crushed garlic cloves, or 4 tablespoon Lazy Garlic or, Kirkland's Minced Garlic
240ml Double Cream / Heavy Whipping Cream
50g Fresh Grated or finely chopped parmesan cheese
2 Tablespoons green pesto sauce
2 Tablespoons olive oil
For
1
If needed, dice the chicken breast. Place the chicken in a skillet or frying pan, with the pinch of pink Himalayan rock salt, and olive oil, and cook on medium heat. 
2
In a pan, melt the butter and then add the garlic, cream, pesto sauce and parmesan to the pan. Once melted, mix together and lower the heat.
3
Start cooking the broccoli florets in another pan. 
4
While waiting for the chicken and sauce to cook, drain the konjac pasta in a colander and then rinse the pasta under a hot water tap. Make sure to thoroughly rinse it, as this removes any fishy smell. Either dry fry the konjac in the skillet or a frying pan, or boil for 3 to 5 minutes in boiling water. 
5
Once the broccoli and chicken has mostly cooked, add the pasta to the pan with the sauce mix and mix together. 
6
Once the chicken, and broccoli are cooked transfer the broccoli and sauce mix to the skillet and toss together.  Remove from the heat and serve.
4 servings per container

Amount per serving

Calories

420

% Daily Value*

Total Fat

28.5 g

36.54%

Total Carbohydrate

10.4 g

3.78%

Dietary Fiber

3.5 g

12.5%

Protein

33 g

66%

* The % Daily Value (DV) tells you how much a nutrient in a serving of food contributes to a daily diet. 2,000 calories a day is used for general nutrition advice. ** Nutritional information is based on the ingredients I used and may vary depending on your ingredients brands.