This fresh vegetable salad, with grilled chicken is perfect for a low carb lunch or light evening meal.
This keto salad is quick to make, and you can prepare the ingredients in advance so they're easily on hand to make this salad whenever hunger strikes. This makes it perfect for sticking to your keto diet, while still leading a busy life.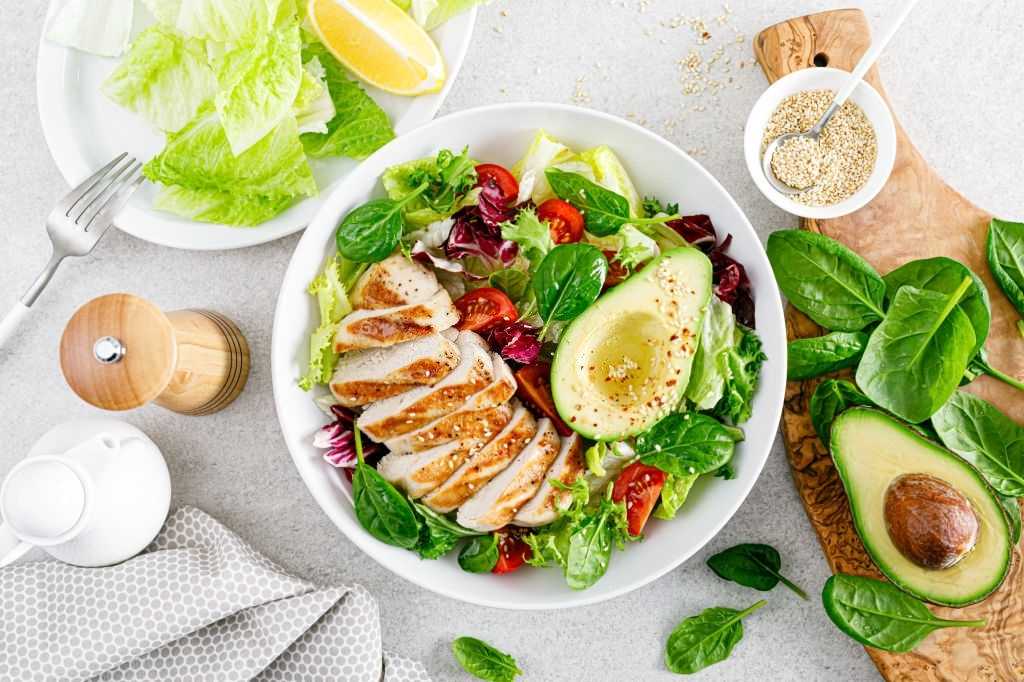 The great thing about this salad is you can easily customise it. Why not add different toppings, such as feta cheese, flaked almonds or seeds? Just sprinkle them over the top, to create different tastes and textures.
Yield: 1 servings
Keto Grilled Chicken Fresh Vegetable Salad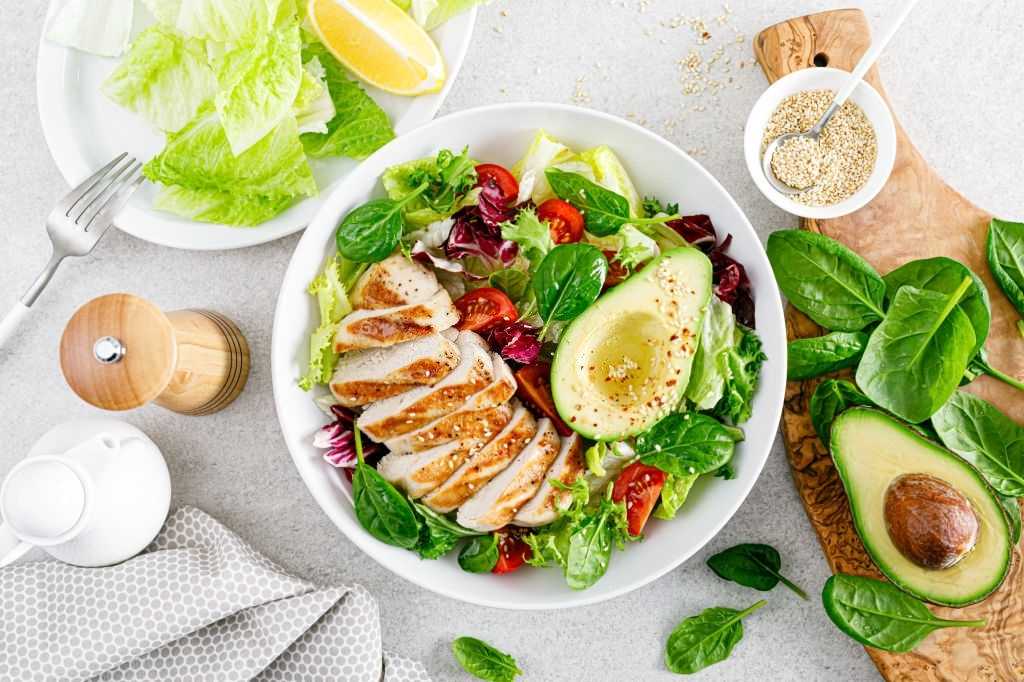 A light, low-carb salad made using yummy fresh tomatos, avocado, lettuce and spinach, paired with grilled chicken.
Ingredients
1 Grilled Chicken Breast
1 Avocado
5 Fresh cherry tomatos
2-3 Cups Baby spinach leaves
1 Cup Shredded Iceberg Lettuce, You could also use baby gem lettuce
1-2 tbsp Extra virgin olive oil
Instructions
Grilling the chicken
Turn on the grill, to allow it to heat up. While waiting for the grill to get hot, remove chicken from fridge.
Season the chicken with your chosen seasonings, such as garlic & mixed italian herbs.
Drizzle some olive oil on the grill, and place the seasoned chicken breast on it. Cook until the sides of the chicken breast have turned white. Once they're white, flip the chicken over until it is thoroughly cooked on both sides.
Check if the chicken is fully cooked, using a therometer. The chickens internal temperture should be 165°F (75°C).
Allow the chicken to cool for 15 minutes bfore cutting.
Preparing the Salad
Measure out the ingredients
Slice the avocado in half, remove the core and then spoon the avocado out of the skin. Slice the avocado, or leave whole if you prefer. Then slice the cherry tomatos in half.
Place the spinach and lettuce into a bowl, and mix with your hands. Sprinkle the cherry tomato's over the top, then add the avocado and sliced grilled chicken.
Drizzle the olive oil over the salad. You can also add seeds, such as chia, pumpkin or sunflower seeds to add extra texture and increase the fibre content.
Nutrition Information
Yield
1
Serving Size
1 grams
Amount Per Serving
Unsaturated Fat

0g