If you're looking for a supermarket with a good range of keto-friendly food, then M&S is your go to! M&S has LOADS of low carb, keto friendly products including snacks, ingredients, cereal and more! If you prefer online shopping, or are looking for other Keto goodies I recommend using Ocado to get your M&S products and also chuck in some other keto goodies that Ocado sells! If you need ideas, then check out my faveorite keto snacks from Ocado.
Below are a list of some of my faveorite keto friendly foods you can find at M&S,
M&S Luxury Grain Free Granola No Added Sugar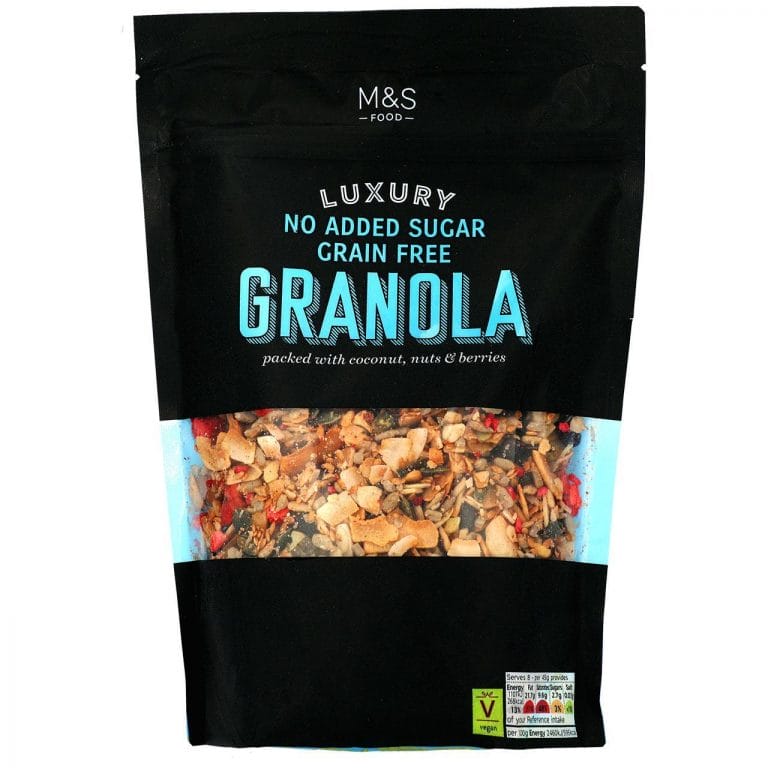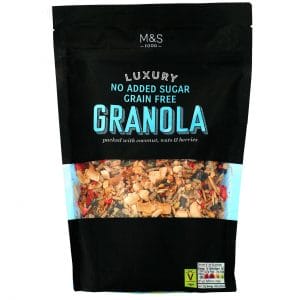 M&S sells a grain free granola, which has no added sugar. It makes a great alternative to the usual carby & sugary granola we're used to.
This grain free granola is made from:
Coconut Chips (25%), Sunflower Seeds, Pumpkin Seeds, Flaked Almonds (10%), Golden Linseed, Chicory Fibre, Chopped Pecan Nuts (6%), Chopped Cashew Nuts (5%), Whole Almonds (4%), Freeze-Dried Raspberry Pieces, Freeze-Dried Strawberry Pieces (Strawberries, Palm Oil), Freeze-Dried Blueberries
This granola contains 7.1g carbs per 45g serving, which is a bit high to eat on a daily basis but you can easily enjoy this as a treat to add more variety your breakfast meals. You can pair this granola with some yoghurt, to increase your breakfasts fat content!
M&S Spanish Serrano Ham Crisps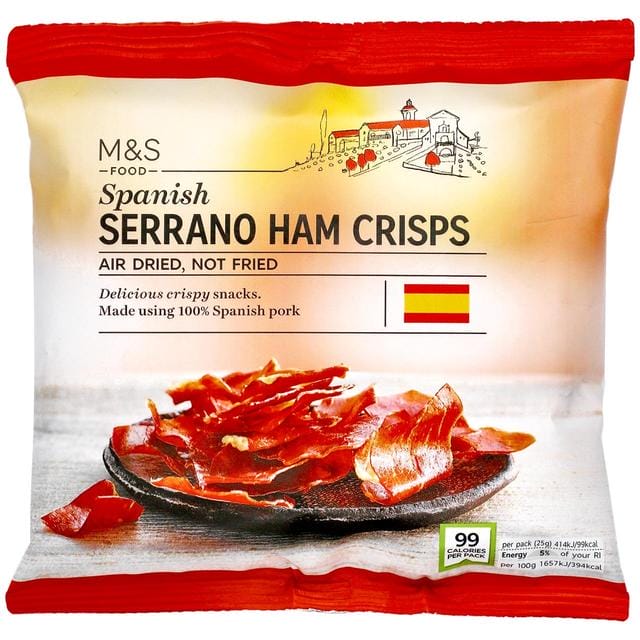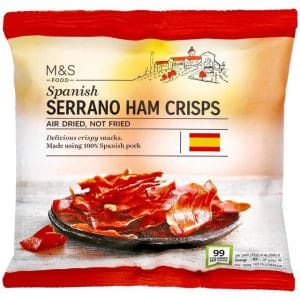 If you love serrano ham, you'll love these crisps. They're super crispy, made from spanish pork and taste super good!
These crisps only have two ingredients! Pork, and sea salt making them super low carb at only 0.1g carbs per pack.
They are a bit pricy, at £1.50 a bag but they make a great treat.
M&S Spanish Chorizo Crisps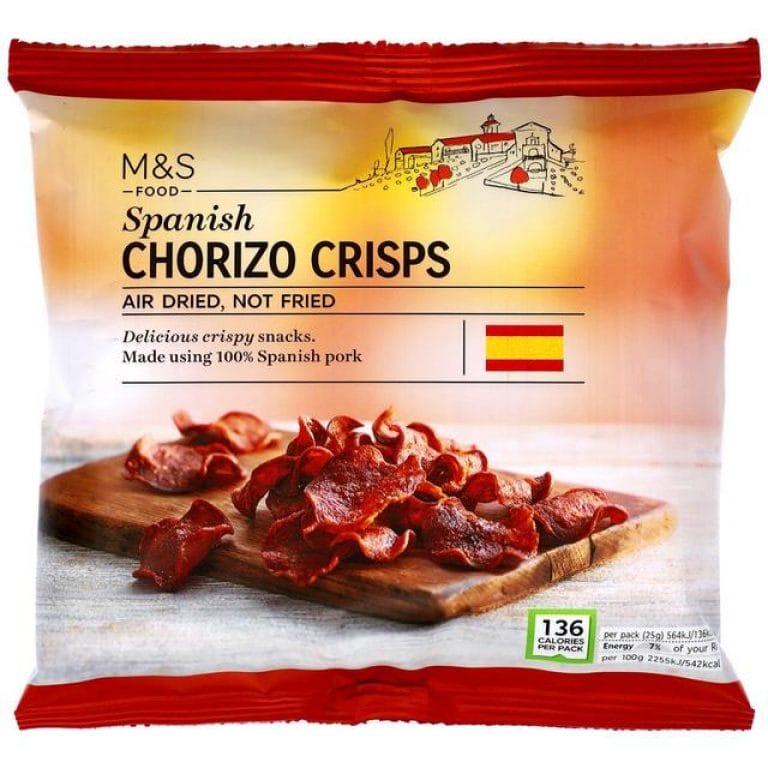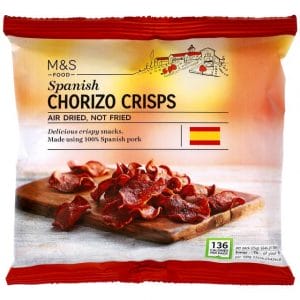 As well as the serrano ham crisps, M&S also sells keto friendly chorizo crisps! Made from spanish pork, these crisps have only 0.2g carbs per pack!
Here's the ingredient list. Note, they do contain some dextrose, which is used for curing so may make these unsuitable for those who are super strict.
Pork (made with 368g of Raw Pork per 100g of Chorizo Pork Sausage), Curing Salt (Salt, Preservative: Sodium Nitrite), Ground Smoked Paprika, Dextrose, Garlic Purée, Antioxidant: E301 Ground Nutmeg, Dried Oregano, Paprika Extract
M&S Spanish Mini Chorizo bites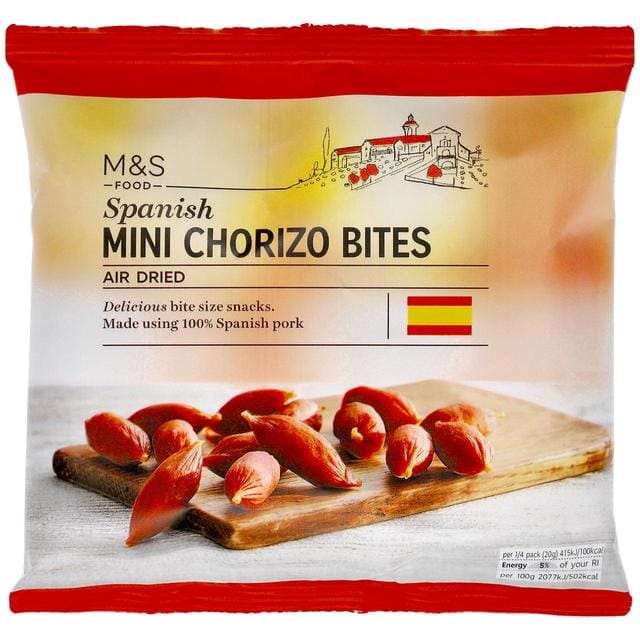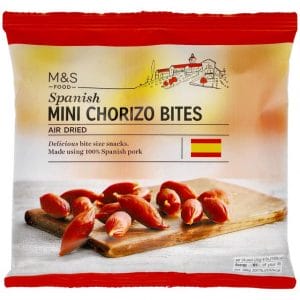 If you like chorizo, you'll love these. They're miniture chorizos, in bite size pieces made using spanish pork. They're keto friendly, and low carb!
The mini chorizo bites contain 0.8g carbs per pack, but I personally find half a bag is enough.
Like the chorizo crisps, they do contain some dextrose which is used for curing. But they also contain maltodextrin which isn't suitable if you're on a clean keto diet.
Pork (made with 110g of Raw Pork per 100g of Chorizo Pork Sausage), Curing Salt (Salt, Preservative: Potassium Nitrate, Sodium Nitrite), Ground Smoked Paprika, Maltodextrin, Dextrose, Dried Garlic, Antioxidant: E301, Ground Nutmeg, Dried Oregano, Sausages filled into Collagen Casing
M&S British Crispy Smoked Bacon Strips & Unsmoked Bacon strips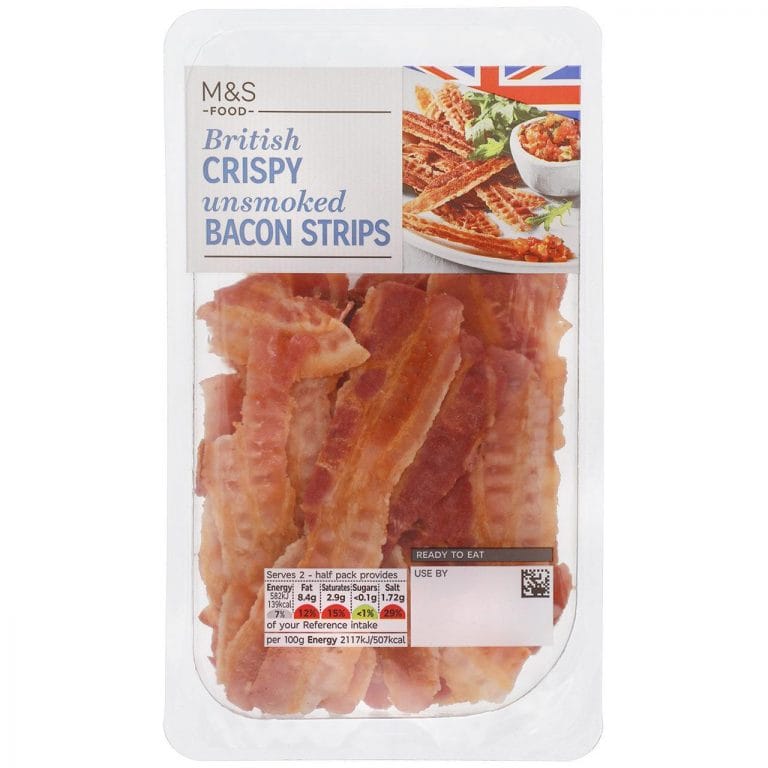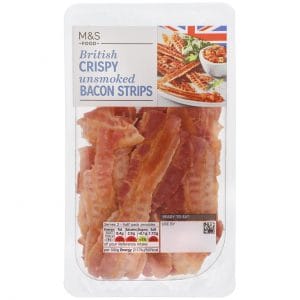 If you love bacon, you'll love these smoked and unsmoked bacon strips. Precooked, extra crispy bacon to enjoy on the go. You'll find these in the deli section, and as of July 2021 they're still included in the 3 for £7 deli offer! Which allows you to easily take advantage of some other foods I've listed.
With only 0.2g carbs per 100g, they make a great low carb, keto friendly snack.
Here's the full ingredients: British Pork (made with 270g of Raw Pork per 100g of Unsmoked Bacon Strips), Curing Salt (Salt, Preservative: Sodium Nitrite), Antioxidant: E301
M&S Cauliflower Rice Packets Frozen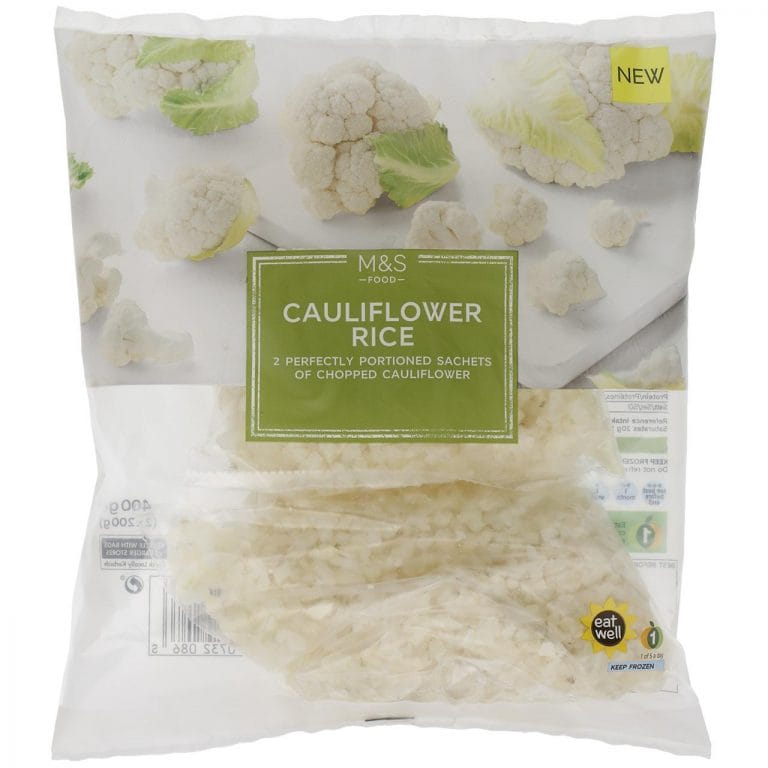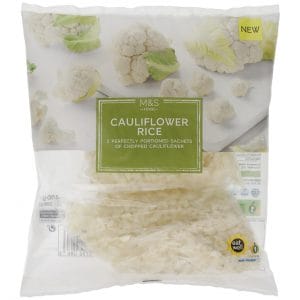 If you need a time saver, or can't get on with grating caulfilowers into rice then M&S has a solution! They sell pre-grated caulfilower rice, in the frozen section. It's a bit pricy, at £1.50 for 2 x 200g satchets but this really does save you a lot of time and makes things easier.
These are made 100% from caulfilower, with 8.8g carbs per 200g satchet. I find, I can split up a bag into 2 servings, so only 4.4g carbs per meal.
M&S Extra Strong Sugar Free Peppermints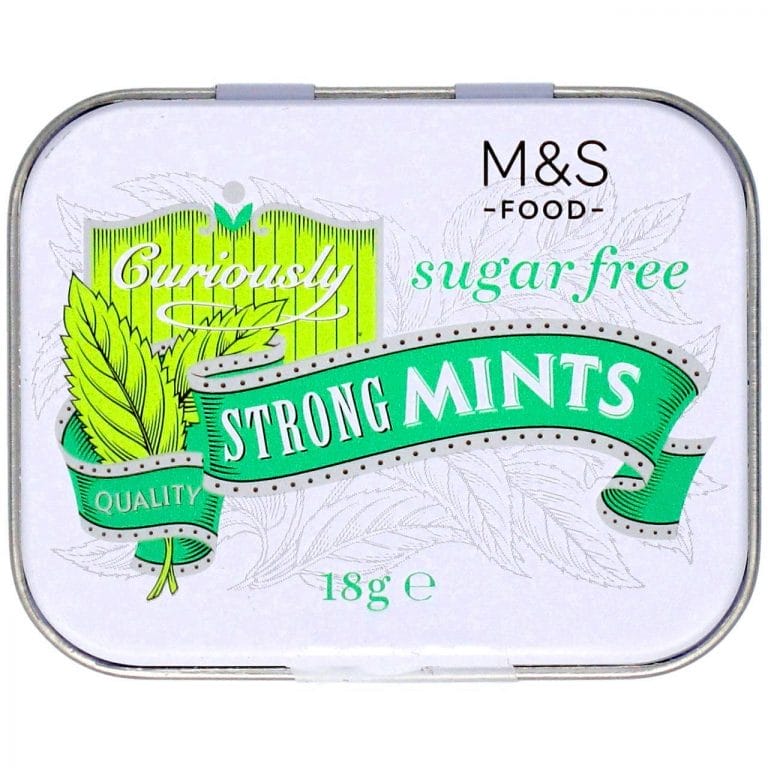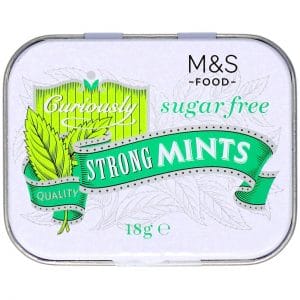 Finding good, strong peppermints is hard. Before keto, I'd normally enjoy some Trebor extra strong peppermints but I had yet to find a possible replacement until I came across these. They're still not quite as strong, but they're pretty close!
M&S has made these extra strong peppermints with sweeteners instead of sugar, making them keto-friendly. They also contain sorbitol and stevia rather than the usuasl, dreaded malitol we normally find in sugar free sweets.
The full ingredients for these are:
Sweetener: Sorbitol, Steviol Glycosides, Flavourings (Peppermint, Menthol)
M&S Plant Kitchen Organic Super Firm Tofu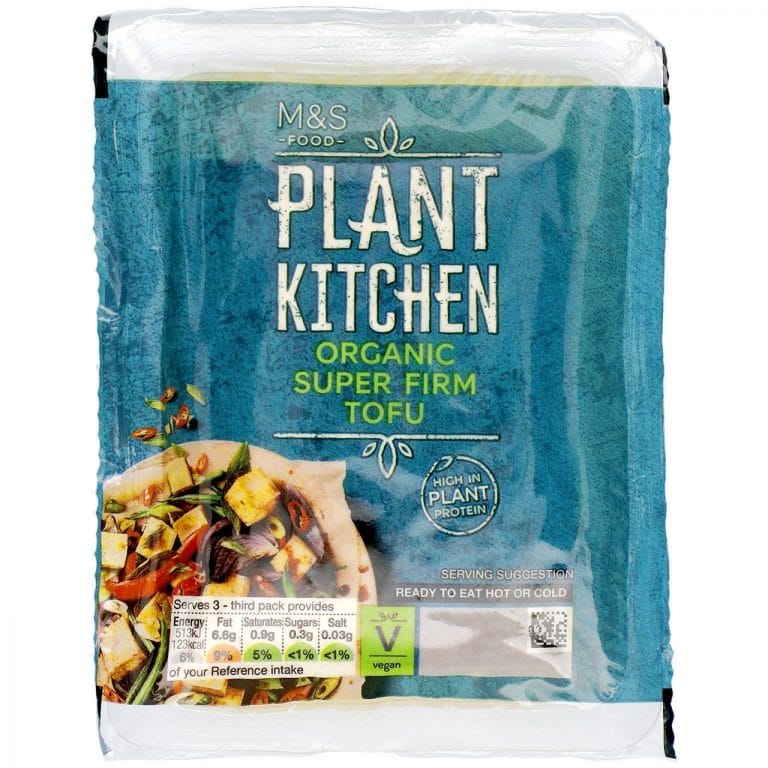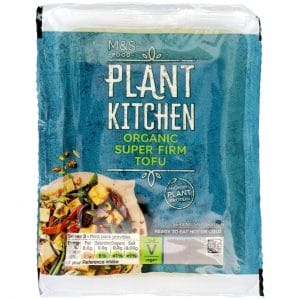 If you're not a meat eater, or just trying to eat less meat you'll be glad to hear M&S has some keto-friendly foods for you as well.
This tofu, is made from organic soya beans which makes it suitable for keto. With only 0.3g carbs per 100g serving, this is a great alternative to meat while still avoiding the nasties that can sometimes be found in tofu.
Here's the full ingredients
*Water, Soybeans (34%), *Nigari Salt (Firming Agent: Magnesium Chloride), *Permitted Non-Organic ingredients
M&S Capella Vine Tomatoes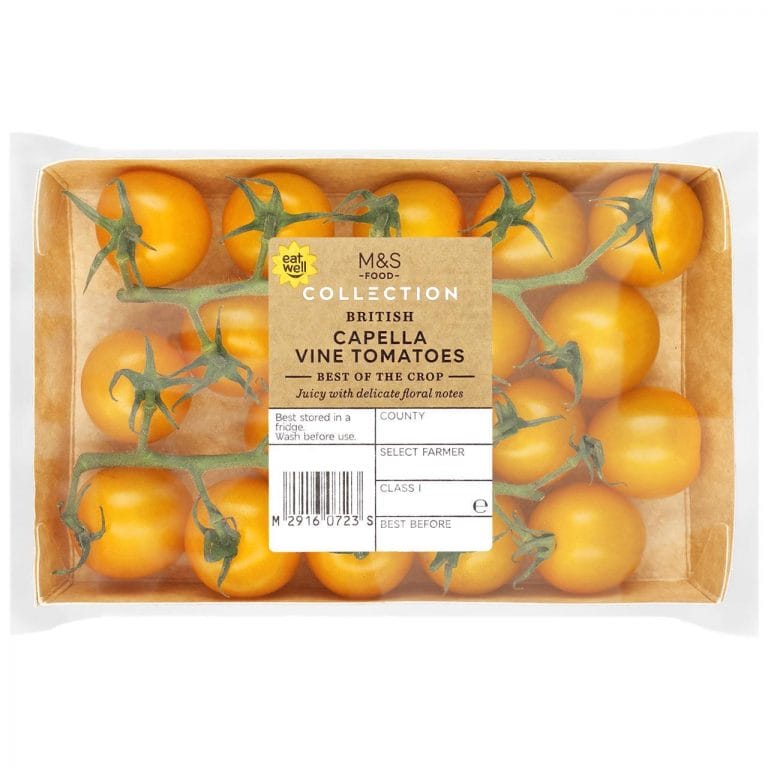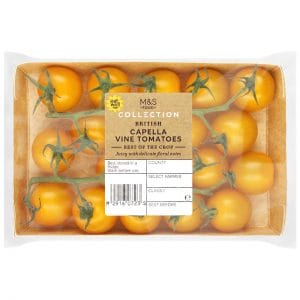 If you love tomatoes, you'll love these extra juicy variety. Not available in most supermarkets, so it's definitely worth picking these up while visiting M&S.
M&S Halkidiki Kalamata Olives & Feta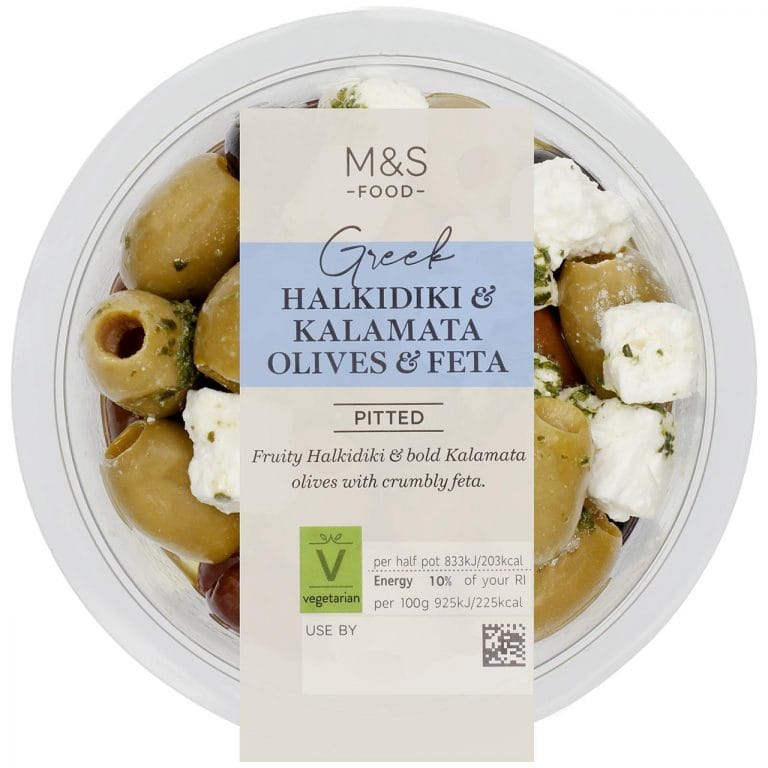 M&S has a great range of olives available, but these have to be one of my faveorites. They're included in their 3 of £7 deli offer (As of July 2021) so you can combine them with the crispy bacon to make up a picnic style lunch!
With only 1.5g carbs per 100g, while also containing 22.5g fat per 100g these are perfect for those following a low carb diet.
Here's the ingredients, which are free of any added nasties.
Pitted Green Halkidiki and Black Kalamata Olives (74%), Feta Cheese (Milk) (15%), Sunflower Oil, Coriander, Lemon Zest, Extra Virgin Olive Oil, Lemon Juice, Salt, Acidity Regulator: Lactic Acid
M&S Serrano Ham & Manchego Cheese Rolls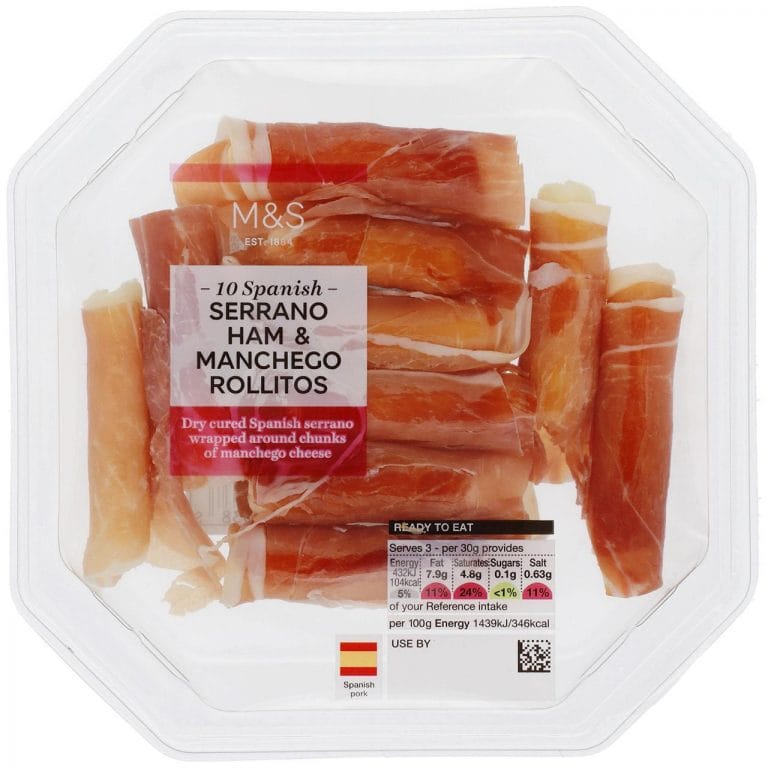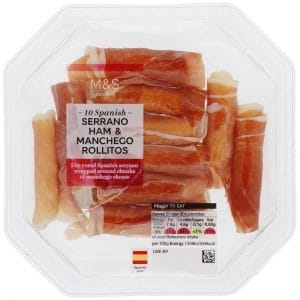 Whenever I go M&S, I have to grab myself a pack of these cheese rolls. They're simple, yet they taste so good! The combination of manchego cheese with serrano ham is perfect. They're low in carbs, with only 0.5g per 100g! Yet they contain 26g protein and 27.9g fat per 100g, so make a great source of healthy fat and protein.
Plus they're in the 3 for £7 deli offer (As of July 2021). Which means you can easily combine them with some olives, and bacon for a perfect lunch or picnic!
M&S Toasted Pumpkin & Sunflower Seeds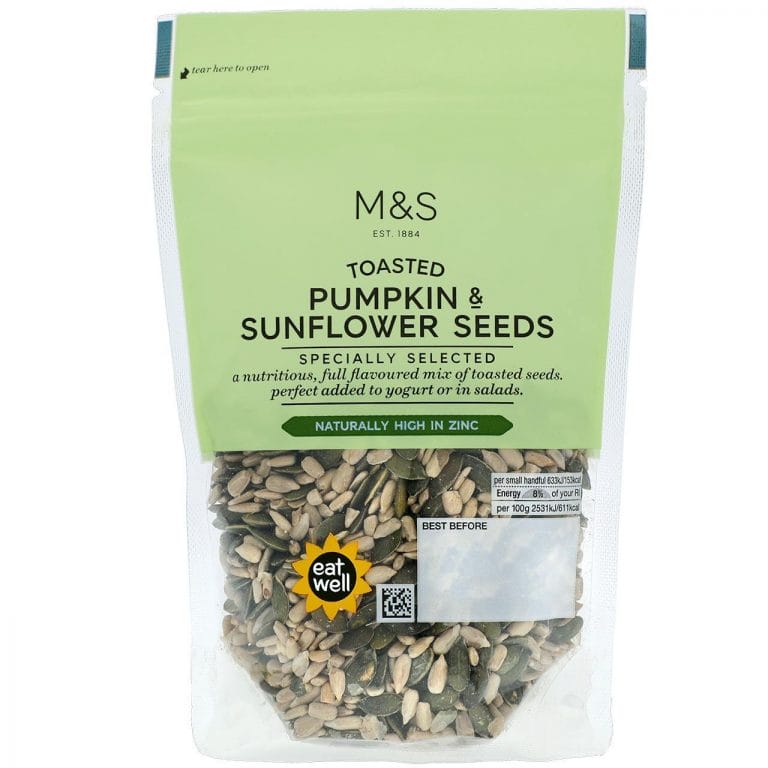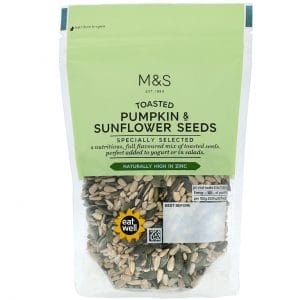 M&S has a decent selection of seeds, nuts etc. I personally love this combination of pumpkin and sufnlower seeds, that are toasted to add extra flavour!
You do need to watch the calories and carb content, as they're quite high and it's easy to over eat. They have 4g carbs, and 125g calories per 25g! But if you sprinkle these over a salad, or yoghurt you'll find you don't even need the full 25g serving.
Cook With M&S Butternut Squash Slices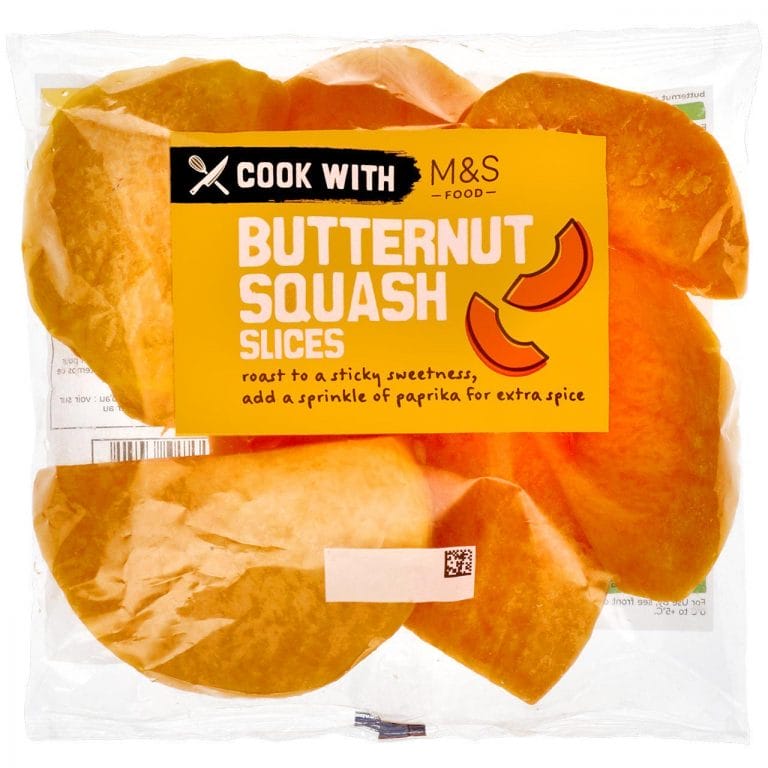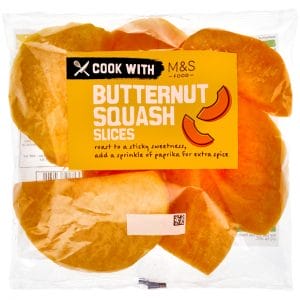 While a bit higher in carbs, butternut squash is keto friendly! You just have to be careful, not to over do the serving size and you can enjoy this yummy vegetable on a low carb keto diet.
I love using butternut squash as an alternative to lasanga sheets. But I hate slicing it, so thanks to M&S I can avoid slicing my fingers and enjoy butternut squash! These slices contain 12.2g carbs per 200g, so I do recommend only having 100g max but if you're doing OMAD you can still fit the full 200g serving into your meal.
Vadasz Raw Kimchi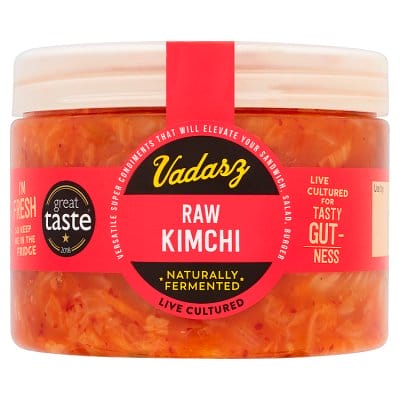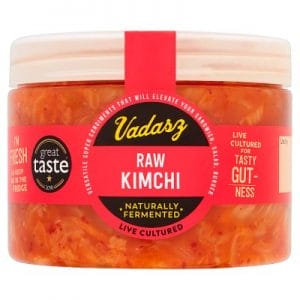 Kimchi is great, it's so yummy and good for you. If you're following a low carb, or keto diet you'll be glad to hear this korean food can be suitable! This raw kimchi from Vadasz is low carb, with only 1g of carbs per 100g of kimchi (when drained)! It does contain carrots, but still – it's really low carb. So if you're not super strict you can happily enjoy this kimchi!
This kimchi is made from:
Chinese Leaf Cabbage, Carrots, Spring Onion, Sea Salt, Chilli Powder, Ginger, Garlic
Without any of the nasties that you find in some premade foods, this kimchi is perfect!
If you loved this guide, make sure to let your friends know. Have you discovered any great keto snacks, or foods at M&S? Let me know in the comments below!