Steaks make for an amazing keto dish, with high protein, moderate to high fat and virtually zero carbs you can easily fit these into your diet.
With the perfect steak you can enjoy each juicy, tender bite without the nagging worry of carb count. Whether it's a casual dinner or a special occasion, this recipe will help you craft the perfect steak.
When it comes to choosing a steak, we recommend either a rib eye or the new york strip. The Ribeye is known for its marbling and tenderness, making each bite melt in your mouth, while the New York Strip is famed for its fine texture and rich, beefy flavor. Which you use is entirely your preference.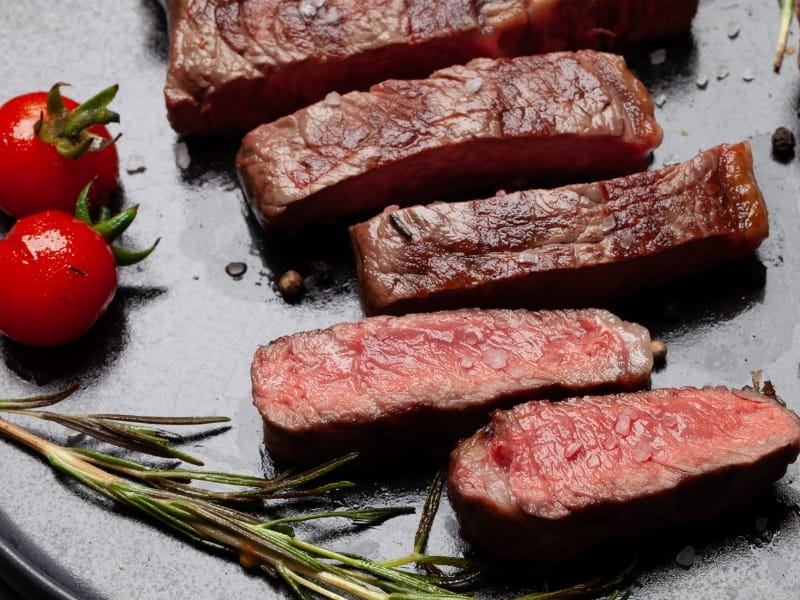 We recommend using sea salt and freshly ground black pepper – a classic duo, to bring out the natural flavors of the meat. Our choice of oils – olive or avocado, both keto-friendly, add a subtle nuance and ensure a perfect sear. The rosemary or thyme, fresh or dried, infuses the meat with a herby undertone, a whisper of the Mediterranean. Whilst the garlic adds a hint of pungency, a zing that wakes up the senses. And finally, the unsalted butter, a keto favorite, that when optional, adds a rich, velvety finish that makes this dish utterly luxurious.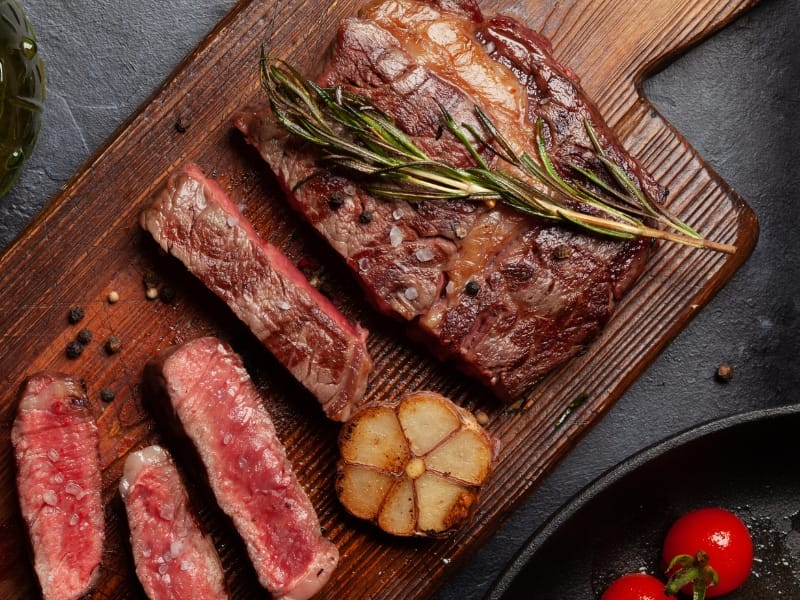 Each ingredient is simple, yet when combined, they create a melody of flavors that dance gracefully on the palate. They bring out the essence of what a great steak should be – a celebration of taste, a tribute to quality ingredients, and a nod to culinary tradition, all while fitting into a low carb diet.
When it comes to side dishes, you could choose to keep it simple such as grilling tomatoes. Imagine the charred goodness of grilled tomatoes, their sweet-tangy flavor bursting with each bite, creating a delightful contrast with the rich, savory notes of the steak.
Alternativel you could pair it with sliced roasted cauliflower, with its tender yet firm texture, provides a subtle nutty flavor, making it a wonderful low-carb alternative to traditional starchy sides. Sprinkle with parmasan before roasting for that extra flavour.
Yield: 2
Keto-Friendly Steak Recipe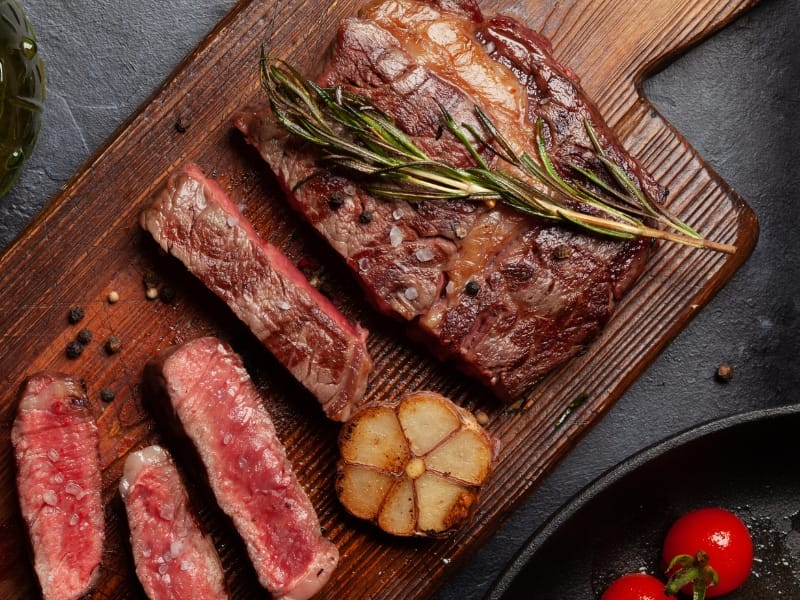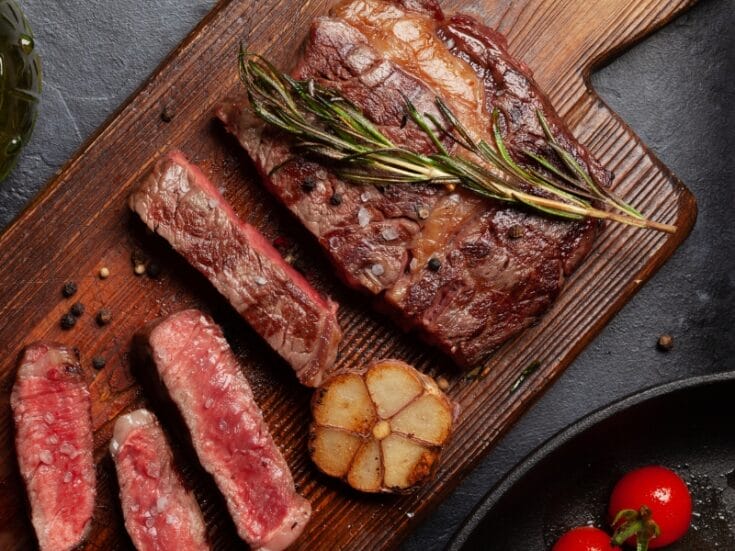 Yummy keto-friendly steal. Made with herbs, garlic and butter that helps enhance the flavors while keeping the dish keto and low carb diet friendly.
Total Time
1 hour
5 minutes
Ingredients
2 steaks (Ribeye or New York Strip are great choices)
Salt & freshly ground black pepper, to taste
2 tablespoons olive oil or avocado oil
2 cloves garlic, minced
1 tablespoon fresh rosemary or thyme, finely chopped (or 1 teaspoon dried)
1 tablespoon unsalted butter (optional, for added richness)
Instructions
Preperation: Take the steaks out of the refrigerator about 30-60 minutes before cooking to bring them to room temperature. This helps in cooking the steak evenly.
SeSesoning: Season the steaks generously with salt and freshly ground black pepper on both sides.
Cooking the Steak: Heat a skillet (preferably cast-iron) over medium-high heat. Once hot, add the oil. Place the steaks in the skillet and cook for about 4-5 minutes on each side for a medium-rare steak, or to your desired level of doneness. You can add the garlic, rosemary or thyme, and butter (if using) during the last minute of cooking, spooning the butter over the steaks to add flavor.
Resting: Remove the steaks from the skillet and let them rest for about 5-10 minutes before slicing. This helps in retaining the juices within the steak.
Notes
Looking for sidedish ideas? Why not pair with roasted tomato's or roasted cauliflower?
Recommended Products
As an Amazon Associate and member of other affiliate programs, I earn from qualifying purchases.
Nutrition Information
Yield
1
Serving Size
1 Steak
Amount Per Serving
Calories

336
Total Fat

26g
Saturated Fat

8.3g
Cholesterol

70mg
Sodium

342mg
Carbohydrates

2.1g
Fiber

0.8g
Sugar

0g
Protein

25.3g
Nutrional values are a guideline and can vary depending on actual ingredients used. They'll definitely vary depending on the type and size of steak used.