These Amaretti biscuits are based on the traditional amaretto biscuit from Saronno in Lombardy, Italy and they taste just like the real thing. 
The great thing about amaretti biscuits is that they're gluten and dairy free, which makes them the perfect biscuit to make into a keto-friendly treat. Just replace the sugar with a keto friendly sweetener, and you end up with these keto amaretti biscuits.
Keto Dairy & Gluten Free Amaretti Biscuits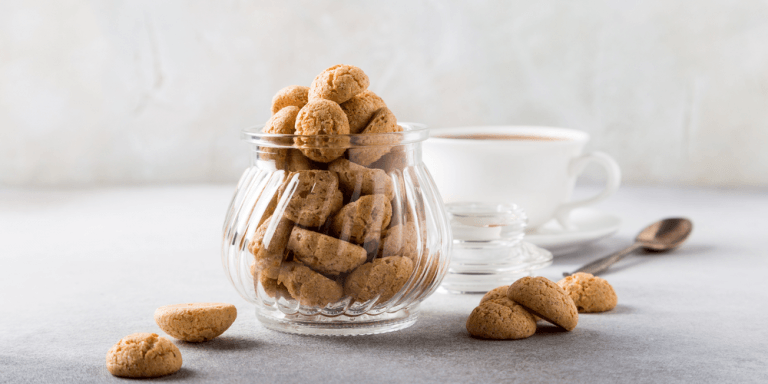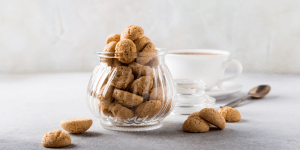 Prep Time

15 min

Cook Time

10 min

Total Time

25 min

Yield

25

Serving Size

1

Energy

60 cal
250g almond flour
175g erythritol or xylitol
4 egg whites
1 teaspoon sugar-free almond extract
pinch of pink Himalayan rock salt
1
Line a baking tray with parchment/baking paper. Preheat the oven to 350°F/180°C /Gas mark 4.
2
Using a large bowl, mix together the almond flour, sweetener and salt until combined.
3
In another bowl, whisk the egg whites with an electric mixer until it forms into soft peaks.
4
Slowly fold the egg whites into the almond mixture a bit at a time until you get a stiff paste. 
5
Gently and carefully fold in the almond extract, don't overmix.
6
You should now have a stiff thick dough. Form the dough into amaretto shaped cookie rounds and place on the baking tray.
7
Bake for 10 minutes in the oven, until they're starting to go a light golden brown. Remove from oven, leave to cool and store in an airtight container for up to a week.  
This is an extra note from author. This can be any tip, suggestion or fact related to the recipe.
25 servings per container

Serving Size

1

Amount per serving

Calories

60

% Daily Value*

Total Fat

3.2 g

4.1%

Saturated Fat

0.2 g

1%

Cholesterol

0 mg

0%

Sodium

27 mg

1.17%

Total Carbohydrate

1.5 g

0.55%

Dietary Fiber

0.7 g

2.5%

Protein

2 g

4%

Potassium

9 mg

0.19%

* The % Daily Value (DV) tells you how much a nutrient in a serving of food contributes to a daily diet. 2,000 calories a day is used for general nutrition advice.
You may also like these recipies