I was keto for over 2 years before I started craving substitutes for things like waffles. One day i woke up and I just reallllly wanted waffles. So, I decided to make some! Substituting keto-friendly ingredients into a waffle recipe did the trick.
These keto waffles are yummy, and are great with sweet or savoury toppings. I love having mine with raspberries, berries and some butter + sugar-free syrup.
I normally use Bulk Powder's sugar free syrups, as these taste pretty good – plus they're available on Amazon so I can use my prime membership to quickly replenish my supply. My favorite one's are the maple syrup and the butterscotch. If you're in the US, you'll probably have difficulty finding the Bulk Powder's one, in which case I recommend trying Jordon's Skinny Syrups or this Lakanto Maple Flavored Syrup
Yummy Keto & Low Carb Waffles, Dairy and Gluten Free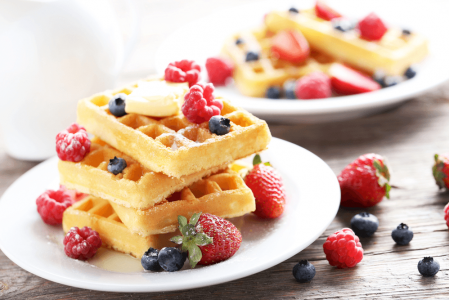 Prep Time

20 min

Cook Time

30 min

Total Time

50 min

Ready in

50 minutes

Yield

Approx 4 servings

Energy

280 cal
Ingredients
70g almond flour
30g coconut flour
1 teaspoon xanthan gum
1 tablespoon ground psyllium husk
240ml water
2 to 3 tablespoons of erythritol or xylitol
60g grass-fed butter or coconut oil
3 eggs at room temperature
1 tablespoon of sugar free vanilla extract or few drops of vanilla flavored liquid stevia
1 teaspoon baking powder
1
Mix the flours, xanthan gum and psyllium husk together. 
2
Put the water, butter, sweetener and salt in a saucepan and heat on a medium heat until it starts simmering. 
3
Lower the heat, and add the dry ingredients and mix until it forms a doughy mix.
4
The doughy mix should start pulling away from the side of the pan. When this happens, transfer it to a bowl and let it sit for a few minutes. 
5
While letting the dough mix rest, grease your waffle iron. Turn the waffle iron on so it starts heating up.
6
After a few minutes, mix the eggs in, one at a time. 
7
Once the eggs are fully mixed in, add the vanilla extract and baking powder. Mix thoroughly.
8
Let the dough rest for about 5 minutes, by which time the waffle iron should be hot enough.
9
Transfer some dough to your waffle iron, and using a wet spoon spread it out. How much dough you will need to use depends on your waffle iron. I needed about 1/2 cup per waffle but smaller irons may need less. Close the waffle iron and leave them to cook for about 10 minutes until golden brown. 
10
If you're not eating straight away, let them cool then store in an air tight container for 2 to 3 days.
Do not use xylitol if you have dogs, as it is toxic to them. 
4 servings per container

Amount per serving

Calories

280

% Daily Value*

Total Fat

24.6 g

31.54%

Saturated Fat

15 g

75%

Cholesterol

123 mg

41%

Sodium

90 mg

3.91%

Total Carbohydrate

13.7 g

4.98%

Dietary Fiber

7.7 g

27.5%

Total Sugars

0.3 g

Protein

7.8 g

15.6%

Vitamin D (Cholecalciferol)

12 IU

1.5%

Calcium

79 mg

6.08%

Iron

1 mg

5.56%

Potassium

199 mg

4.23%

* The % Daily Value (DV) tells you how much a nutrient in a serving of food contributes to a daily diet. 2,000 calories a day is used for general nutrition advice. ** Nutritional information is estimated, always check what your ingredients nutritional information is.