These sugar-free caramelised pecans are perfect for a ketogenic diet! They offer a sweet fix without having to spike your blood sugar level. They're also a great way of increasing your fat intake, as pecans are a great source of fat.
The Sweeteners
Xylitol is the best sweetener to use for this recipe, but remember – do not use xylitol if you have a doggo! It's really toxic for dogs and not worth the risk. Xylitol can spike your blood sugar level slightly, as it is a GI rating of 13. So make sure yo count at least 50% of the carbs from Xylitol when calculating your macro intake.
Erythritol is the perfect alternative, and you can deduct 100% of the erythritol carbs from your macros as it has a GI rating of 0! The only downside is, that erythritol will crystalise and go grainy. Due to this, you'll need to reheat the caramel mix if you're not using it straight away.  Otherwise, if you're pouring it directly over the pecans, you can eat without reheating; you'll just find it a bit grainy. 
The nuts
For this recipe I have chosen to use pecans, however, you could also use this with walnuts. You could also give it a try with blanched almonds, although I recommend chopping em up a bit to make them easier to much on.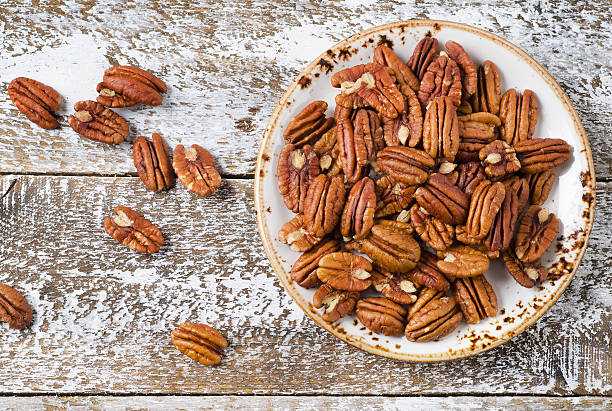 Keto Gluten-Free Caramlised Pecans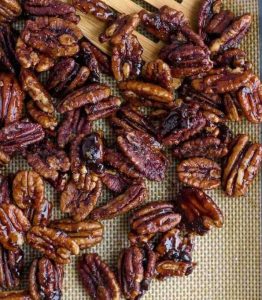 Prep Time

5 min

Cook Time

25 min

Total Time

30 min

Ready in

1 hour

Yield

Approx 10 servings

Energy

225 cal
Ingredients
60 g Butter
1/4 to 1/2 cup Brown Erythritol or Xylitol (**Use brown versions to get the best taste. White versions work but brown is best**)
125 g Heavy/Double Cream
1 pinch salt (Preferably Himalayan rock salt)
150-200 g pecans (Whole or halved)
For
1
Melt butter in a saucepan over low heat until browned, this will take around 5 minutes.
2
Add in the sweetener, heavy cream and salt stirring until combined.
3
Leave the mixture to simmer for 10 minutes on medium heat. Note: This can make a lot of smoke so I recommend opening a window, turning on an extractor fan.
4
While the mixture is simmering, lay out parchment/baking paper on a baking tray or large plate. Lay the pecans out on the parchment paper. 
5
When the mixture has stopped simmering, pour over the pecans. *
6
Leave the caramel and pecans to set for around 30 minutes.  
*If you don't want to use the caramel straight away, you can store it in a glass jar. If using erythritol you need to re-heat before using as the erythritol crystalises.
10 servings per container

Amount per serving

Calories

225

% Daily Value*

Total Fat

23.8 g

30.51%

Saturated Fat

7.4 g

37%

Cholesterol

30 mg

10%

Sodium

55 mg

2.39%

Total Carbohydrate

3.2 g

1.16%

Dietary Fiber

2.1 g

7.5%

Total Sugars

0.7 g

Protein

2.5 g

5%

Vitamin D (Cholecalciferol)

10 IU

1.25%

Calcium

24 mg

1.85%

Iron

1 mg

5.56%

Potassium

94 mg

2%

* The % Daily Value (DV) tells you how much a nutrient in a serving of food contributes to a daily diet. 2,000 calories a day is used for general nutrition advice. ** Nutritional information is based off of using half a cup of erythrtiol and 150g pecans.