These low carb chocolate chip cookies are amazing! They taste so good, and they only have 2.1g net carbs per cookie! They're also gluten-free making them perfect for coeliacs.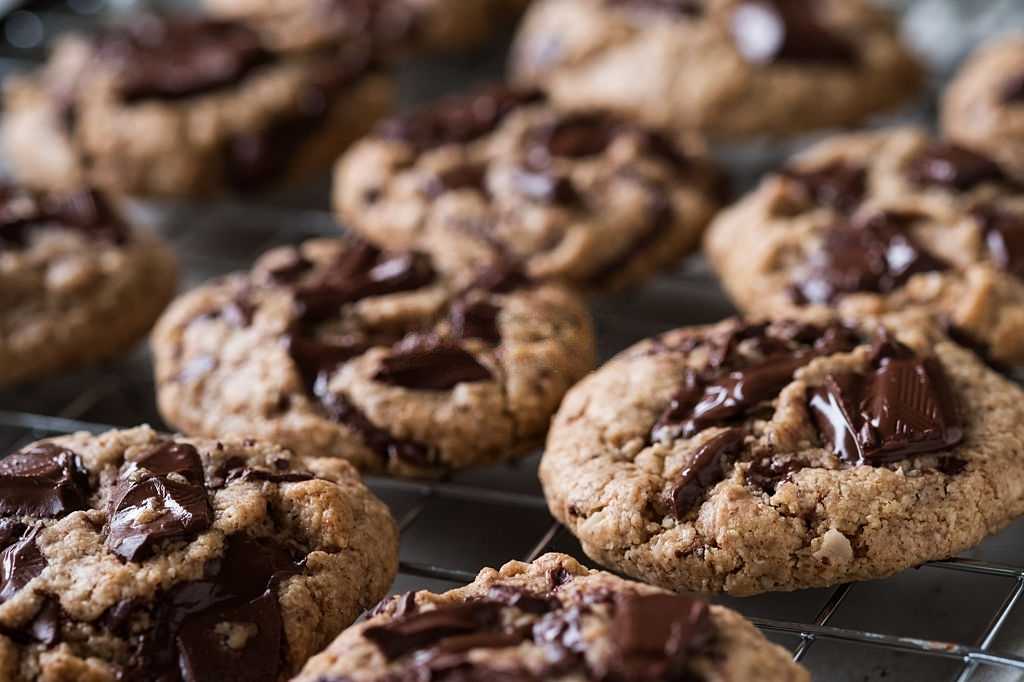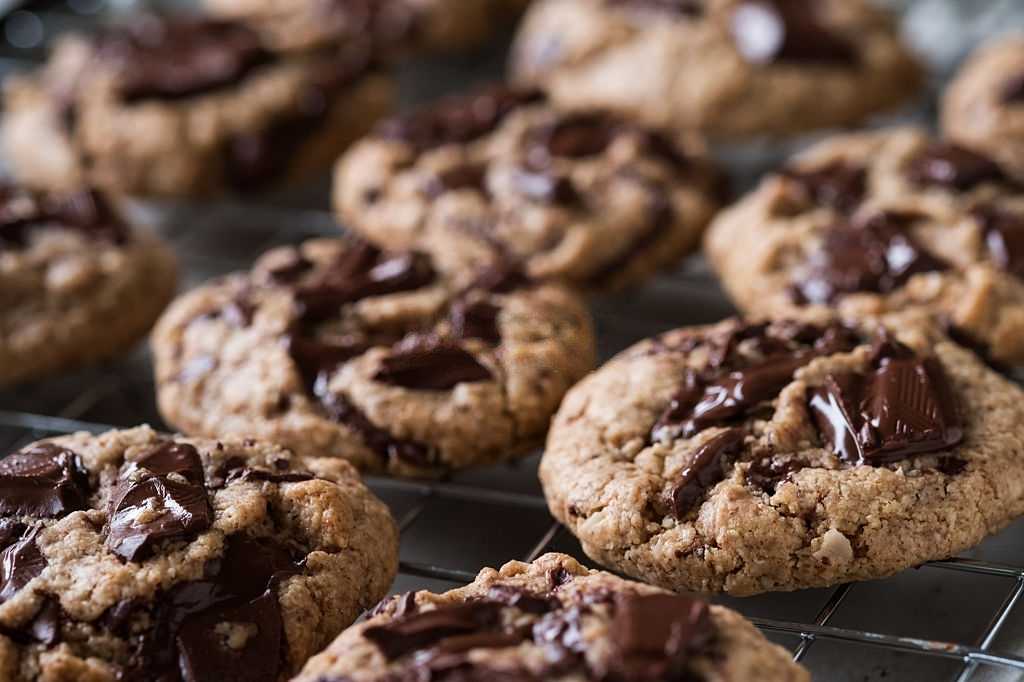 The Flours
This recipe uses two keto-friendly flours; almond flour and coconut flour. You can also use ground almonds (almond meal) instead of almond flour. These are more readily available in the UK, and they're a lot cheaper than almond flour. The only downside is they're not ground as fine as almond flour, so for some recipes that might be a problem but I find it works just as good for cookies.
The Chocolate
For this recipe, you'll want to use sugar-free chocolate. Depending on how sweet you want the cookies to be, you can use dark chocolate or sweetener chocolate. For the best results, you'll want to use chocolate chips, such as Lilly's Dark Chocolate Baking Chips. You can also use a chocolate bar, which you'll need to chop/flake into pieces, or for bigger chunks of chocolate use some chocolate buttons!
Baking The Keto Cookies
When it comes to baking the cookies, you want to make sure you use parchment paper to line the baking tray not silicone sheets. Silicone stops the cookies from being able to spread, whereas parchment paper lets them spread out for the best results.
When splitting the cookie mix into portions, roll it into a ball then squash it slightly. This will make the cookies spread out better. If you want your low carb cookies to be more crispy, flatten them out even more – to increase the surface it spreads out. The thicker the keto cookie, the cakeier it'll be.
You'll want to set your oven to Gas mark 4/180°C/350°F and check on the low carb cookies after about 6 minutes and if necessary, turn the tray around to make sure they bake evenly.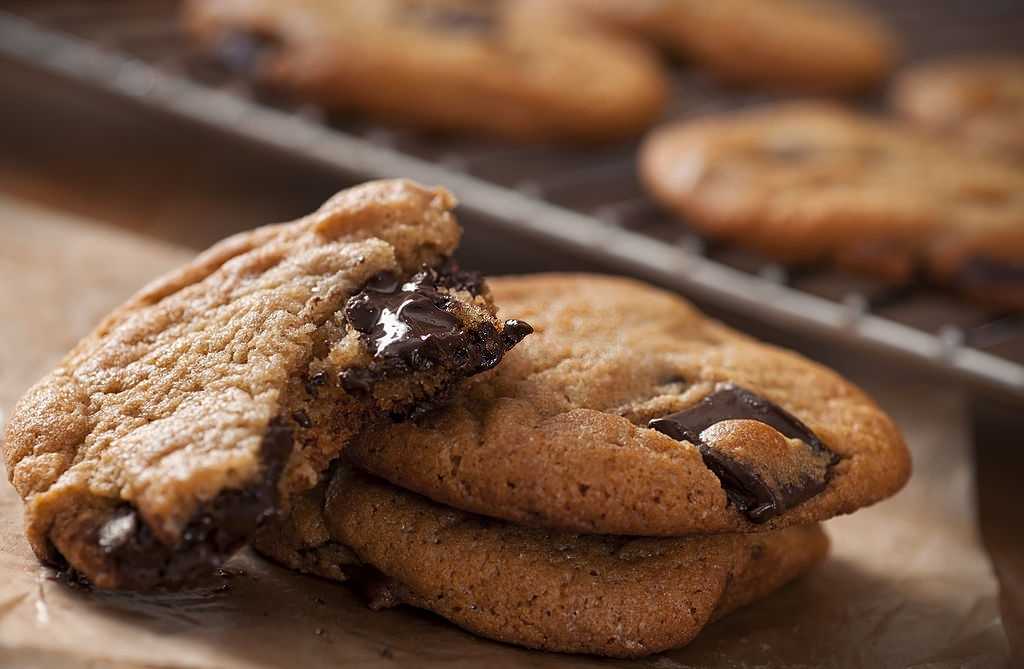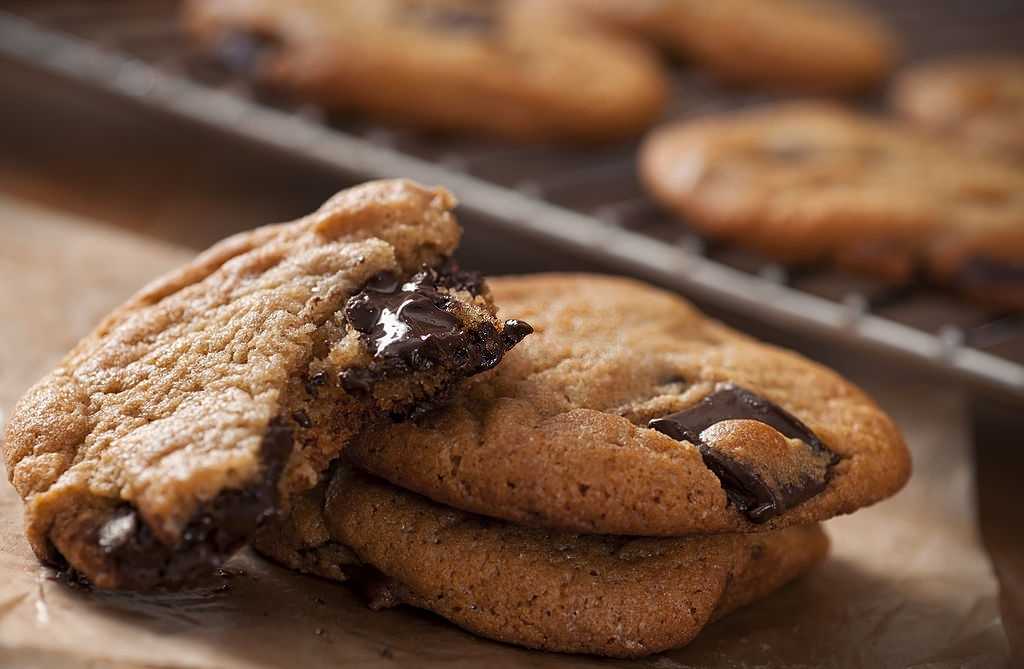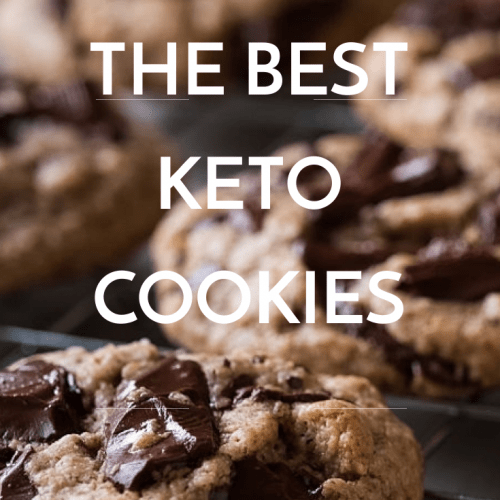 Keto Low Carb Chocolate Chip Cookies
Yummy chocolate chip cookies, free from grains and added sugar.
Ingredients
100

g

Ground Almonds/Almond Flour

15

g

Coconut Flour

1

tablespoon

glucomannan powder

0.5

teaspoon

Xanthun Gum

0.5

teaspoon

baking soda (bicarbonate of soda)

0.5

teaspoon

salt

100

g

erythritol

125

g

unsalted butter

1

teaspoon

pure vanilla extract

1

egg

80

g

Sugar-free chocolate chips, buttons or bar

E.g. Lilly's (USA), or PINK SUN (UK)
Instructions
Keto Cookie Baking Instructions
Measure the ground almonds, coconut flour, glucomannan powder, salt, xanthum gum, baking soda into a bowl. Mix together.

Measure the sweetener, and butter into another bowl then cream together until thoroughly mixed. Then add the egg, and vanilla extract and continue mixing.

Add half the dry ingredients to the butter mix, and continue mixing together until fully mixed in and then add the rest of the dry mix and continue mixing.

If using a chocolate bar, measure out the chocolate then chop into chunks. Add the chocolate to the cookie mix, and mix in.

Either cover the bowl, or transfer the mix to a smaller container which you cover. Then place into the fridge for a minimum of 1 hour.

Preheat oven to gas mark 4/180°C/350°F, and line a baking tray with parchment paper, NOT silicone! Silicone stops it from spreading.

After an hour, remove mix from fridge. Evenly divide the cookie dough into 15 portions. Roll each portion into a ball shape. Place onto the baking tray, and flattern the cookies. The flatter you make them, the crisper they'll be so for super crispy cookies make them really flat. So leave them a bit fatter if you want them less crispy.

Bake in the oven for about 10 to 12 minutes. Bigger/thicker cookies take a bit longer than smaller/thinner ones.
Keto Cookie Estimated Nutritional values:
The values below may vary depending on the actual ingredients used, size of the cookie, etc.