In this simple low carb keto tortilla recipe, I'll show you how to make tortillas using almond flour, and coconut flour.
These Keto tortillas are great. They are low in carbs, gluten-free, and quick to make. They can be used for burritos, tacos, quesadillas and more! Sometimes I use them to make breakfast wraps with avocado and bacon. You can also keep the uncooked dough in the fridge for a few days, or freeze it for later.
Are tortillas keto friendly?
The normal tortilla wraps served in restaurants and at your supermarket, are not really keto-friendly. They're high in carbs, with normally between 20 to 30g net carbs in just one regular sized tortilla! That's higher than your normal daily allowance so you'd really struggle to fit them into a normal keto lifestyle. They're also full of grains, like wheat flour or corn. If you thought "well what about gluten-free tortillas?", sadly once again these are normally made with cornflour so they're also full of carbs! Old El Paso, normal-sized gluten-free tortillas contain 21g net carbs per wrap.
Here's an example of some tortilla wraps we have in the UK, the US ones are similar in carb content and ingredients.
When you're looking at a packet, you want to check the ingredients for grains and the carb content per tortilla as well as per 100g (As chances are, you'll want 2 or more per meal). In these Old El Paso tortillas, you will see that they contain white corn masa flour (grain so high in carbs), quinoa flour (another grain) and amaranth flour (high in carbs). The carb content is 58g per 100g and 21g per 36g! That's your daily allowance in one tortilla.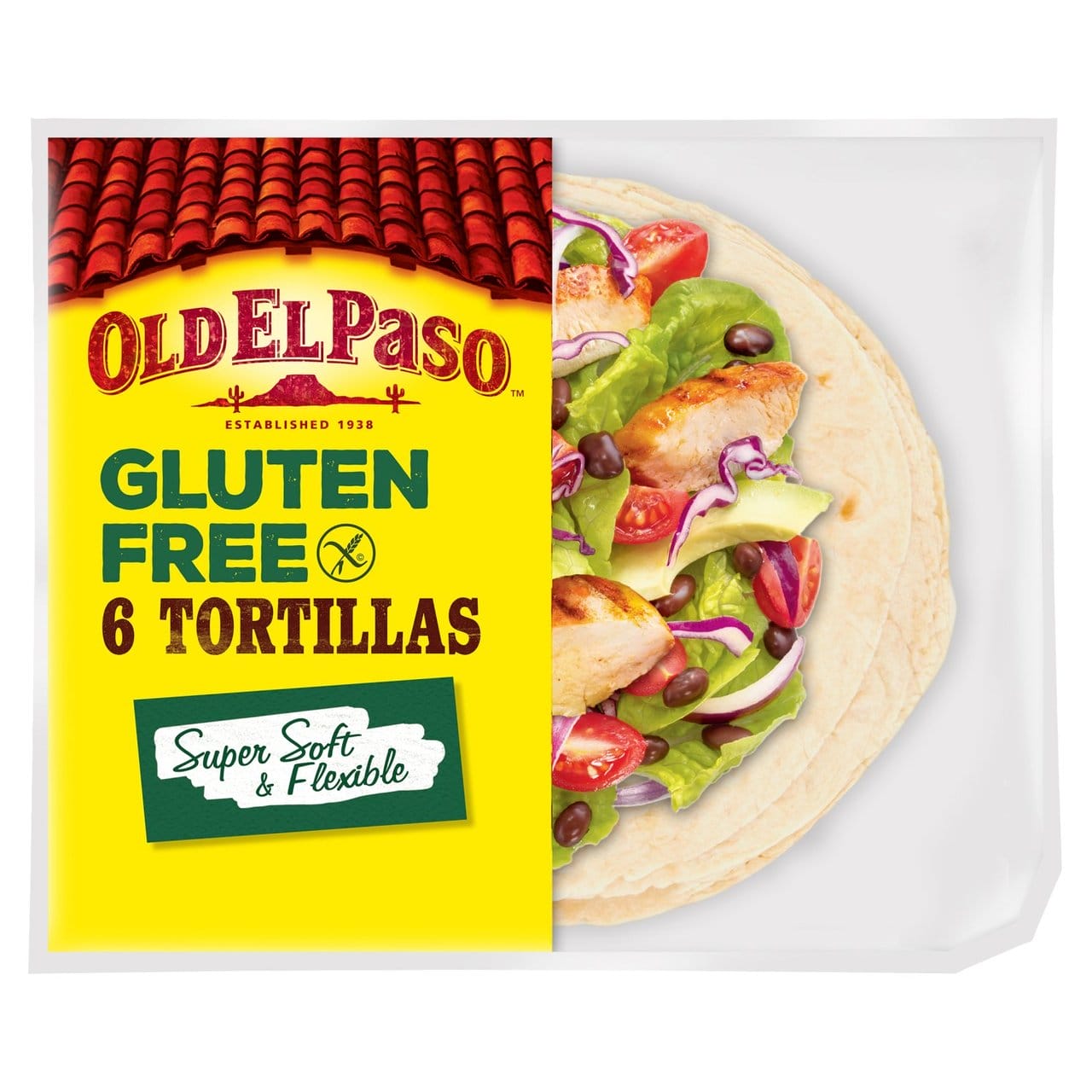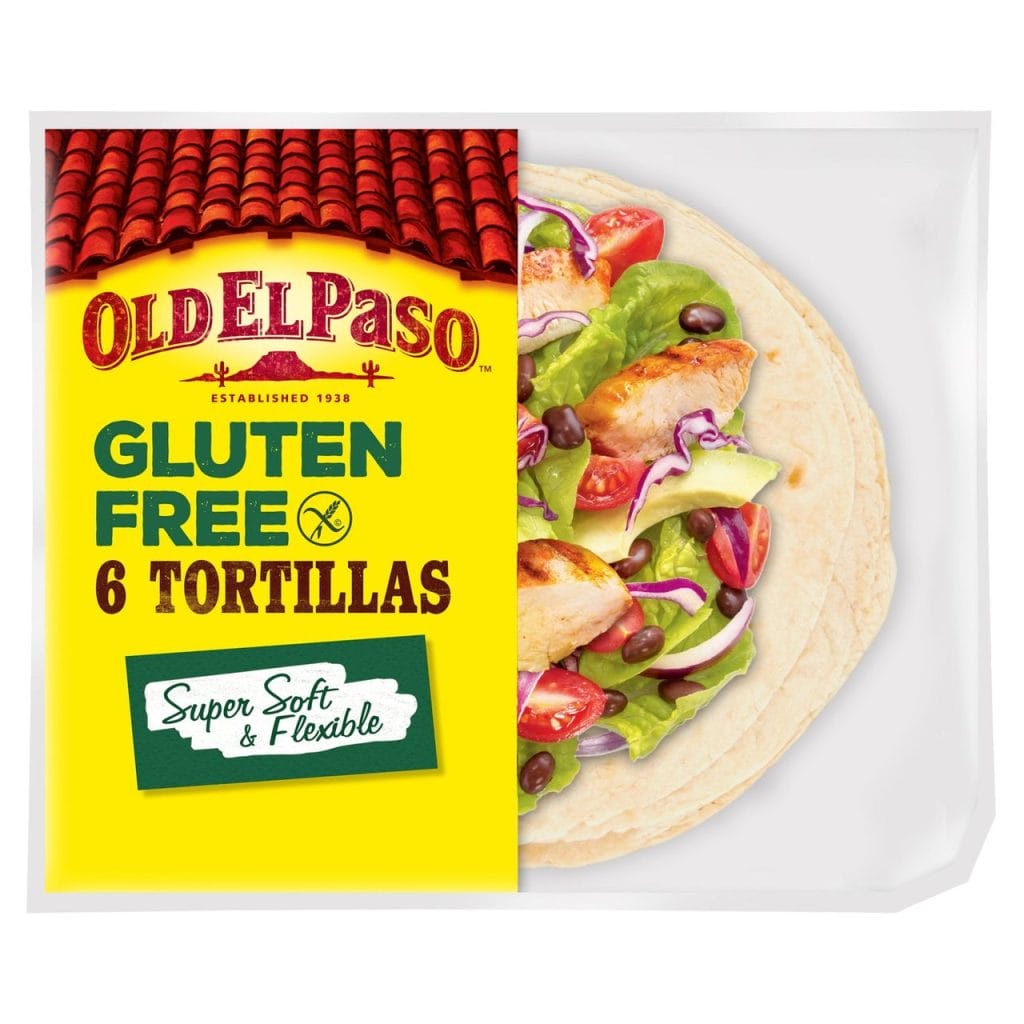 Old El Paso Gluten Free Tortillas
Ingredients: Tapioca Starch (53%), Water, White Corn Masa Flour (8%), Stabilisers (Glycerol, Xanthan Gum), Quinoa Flour (4%), Amaranth Flour, Emulsifier (Mono- and Diglycerides of Fatty Acids), Salt
Typical Values
Per 100 g
Each tortilla (36g) as sold:
Energy
1136 kJ / 268 kcal
409 kJ / 97 kcal
Fat
2.2 g
0.8 g
of which saturates
0.7 g
0.3 g
Carbohydrate
58.0 g
21.0 g
of which sugars
0.3 g
0.1 g
Fibre
3.8 g
1.4 g
Protein
1.9 g
0.7 g
Salt
1.31 g
0.47 g
What fillings could I use in low carb tortillas?
You can use any filling you want in low carb tortillas! Remember that a lot of the usual tortilla fillings are high in carbs, so keep them on the lighter side. Ground beef, guacamole and salsa are great for making keto tortillas for lunch or dinner. If you're looking for something sweet, peanut butter is a good choice to use as a filling or you could even make homemade Keto Nutella.
Yield: 10
Keto Tortilla Wraps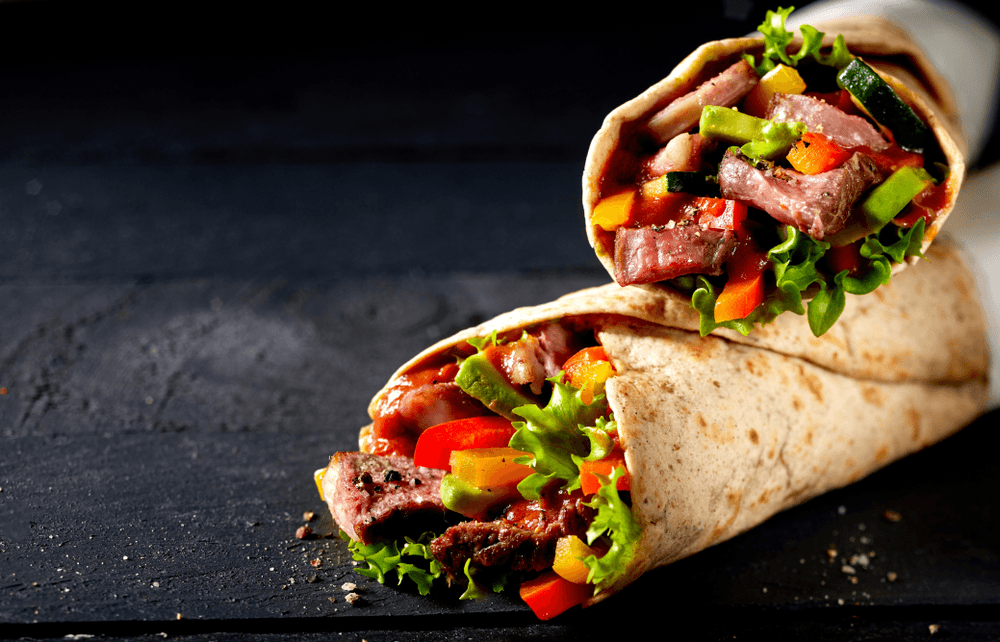 These keto tortilla wraps are great,
Ingredients
120g almond flour*
30g coconut flour
1.25 teaspoons baking powder
2.5 teaspoons xanthan gum
2.5 teaspoons apple cider vinegar
1 egg (large or medium preferred)
4 tablespoons water
Pinch of pink himalayan rock salt
Instructions
Using a food processor, combine the almond flour, coconut flour, baking powder, and xanthan gum.

Add the apple cider vinegar to the food processor and pulse until combined.

Add the egg to the food processor and pulse again until combined, a wet dough should form.

Layout a sheet of cling film, lightly oil it, place the wet dough on it then wrap the dough. Knead the dough for a few minutes.

Heat up a pan over medium heat. You need the pan warm enough that when you sprinkle some water on it, the droplets do not evaporate but instead sizzle and run around the pan.

Split the dough into 10 equally sized balls, around 1″ in diameter. Roll out each ball between 2 sheets of baking/wax paper* with a rolling pin until around 6 inches in diameter.

*If you do not have any baking/wax paper available, you can stop the dough from sticking to a worktop surface by using coconut flour. Sprinkle coconut flour on the surface, put the dough on it, cover in coconut flour then roll out, making sure to turn over and re-flour both the dough and worktop surface.

Transfer the rolled out tortilla wrap to the pan (which should still be on medium heat), for around 10 to 15 seconds, flip the tortilla wrap over and cook for another 10 to 15 seconds before transferring to a plate. The tortilla wraps should be a golden brown.

Cover the tortilla wraps to keep warm until serving. You need to eat the cooked tortilla wraps straight away but the uncooked dough can be stored for 2 to 3 days in an airtight container in the fridge.

Fill with a filling of your choice. If making tacos, I recommend using a keto-friendly taco sauce such as Kevin's Natural Foods Tomatillo Taco Sauce.
Notes
*Ground almonds or almond meal is also OK. Almond flour just makes for a better taste and smoother dough. But they're still great with ground almonds/meal.
Nutrition Information
Yield
10
Serving Size
1 Wrap
Amount Per Serving
Calories

90
Total Fat

7g
Saturated Fat

1g
Cholesterol

14mg
Sodium

50mg
Carbohydrates

2.3g
Net Carbohydrates

1.2g
Fiber

1.1g
Sugar

0g
Protein

2.5g