Keto Gluten-free Tortilla Wraps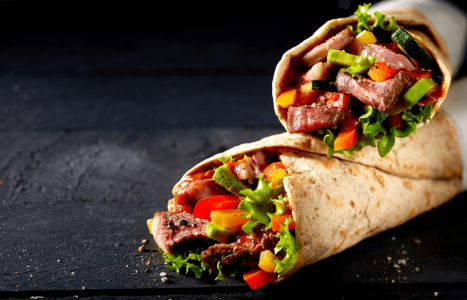 Prep Time

10 min

Cook Time

8 min

Total Time

18 min

Yield

Approx 10 servings

Energy

90 cal
Cuisine

Course

Suitable for Diet
Ingredients
120g almond flour
30g coconut flour
1.25 teaspoons baking powder
2.5 teaspoons xanthan gum
2.5 teaspoons apple cider vinegar
1 egg
4 tablespoons water
Pinch of pink himalayan rock salt
1
Using a food processor, combine the almond flour, coconut flour, baking powder, and xanthan gum.
2
Add the apple cider vinegar to the food processor and pulse until combined. 
3
Add the egg to the food processor and pulse again until combined, a wet dough should form. 
4
Lay out a sheet of cling film, lightly oil it, place the wet dough on it then wrap the dough. Knead the dough for a few minutes.
5
Heat up a pan over a medium heat. You need the pan warm enough that when you sprinkle some water on it, the droplets do not evaporate but instead sizzle and run around the pan.
6
Split the dough into 10 equally sized balls, around 1″ in diameter. Roll out each ball between 2 sheets of baking/wax paper* with a rolling pin until around 6 inches in diameter.
*If you do not have any baking/wax paper available,  you can stop the dough sticking to a worktop surface by using coconut flour. Sprinkle coconut flour on the surface, put the dough on it, cover in coconut flour then roll out, making sure to turn over and reflour both the dough and worktop surface. 
7
Tansfer the rolled out tortilla wrap to the pan (which should still be on a medium heat), for around 10 to 15  seconds, flip the tortilla wrap over and cook for another 10 to 15 seconds before transferring to a plate. The tortilla wraps should be a golden brown.
8
Cover the tortilla wraps to keep warm until serving. You need to eat the cooked tortilla wraps straight away but the uncooked dough can be stored for 2 to 3 days in an airtight container in the fridge.   
10 servings per container

Amount per serving

Calories

90

% Daily Value*

Total Fat

7 g

8.97%

Saturated Fat

1 g

5%

Cholesterol

14 mg

4.67%

Sodium

50 mg

2.17%

Total Carbohydrate

2.3 g

0.84%

Dietary Fiber

1.1 g

3.93%

Total Sugars

0 g

Protein

2.5 g

5%

Vitamin D (Cholecalciferol)

1 IU

0.13%

Calcium

25 mg

1.92%

Potassium

58 mg

1.23%

* The % Daily Value (DV) tells you how much a nutrient in a serving of food contributes to a daily diet. 2,000 calories a day is used for general nutrition advice. ** Nutritional information is based off of using half a cup of erythrtiol and 150g pecans.