These deviled eggs, are not only super yummy but they're also low carb and keto friendly. Simple to make, these keto deviled eggs make the perfect snack, side dish or appetizer. If you're having a party, these make a great keto-friendly buffet food.
Are eggs keto friendly?
Eggs are great on a low carb, or keto diet. They're low in carbs, with only around 1g net carbs per large egg. They're a great source of vitamins, folate, calcium, phosphorus, selenium and zinc. Eggs make a great snack on keto, and low carb diets as you can prep them ahead of time so you'll always have something on hand if you ever get hungry.
What are deviled eggs?
Deviled eggs are hard-boiled eggs, that have been removed from the shell and sliced in half. The yolk is removed, and made into a filling that is placed back in the egg.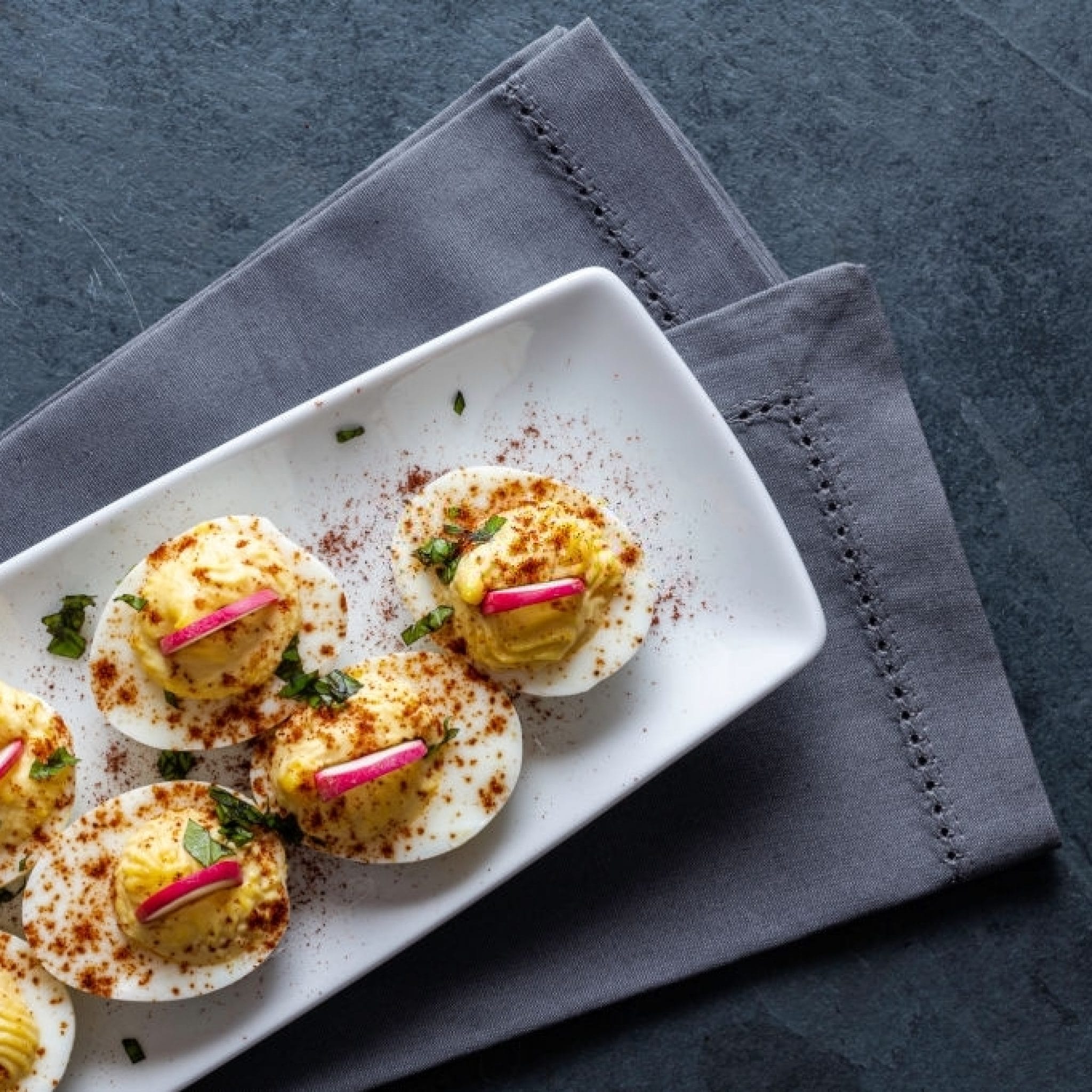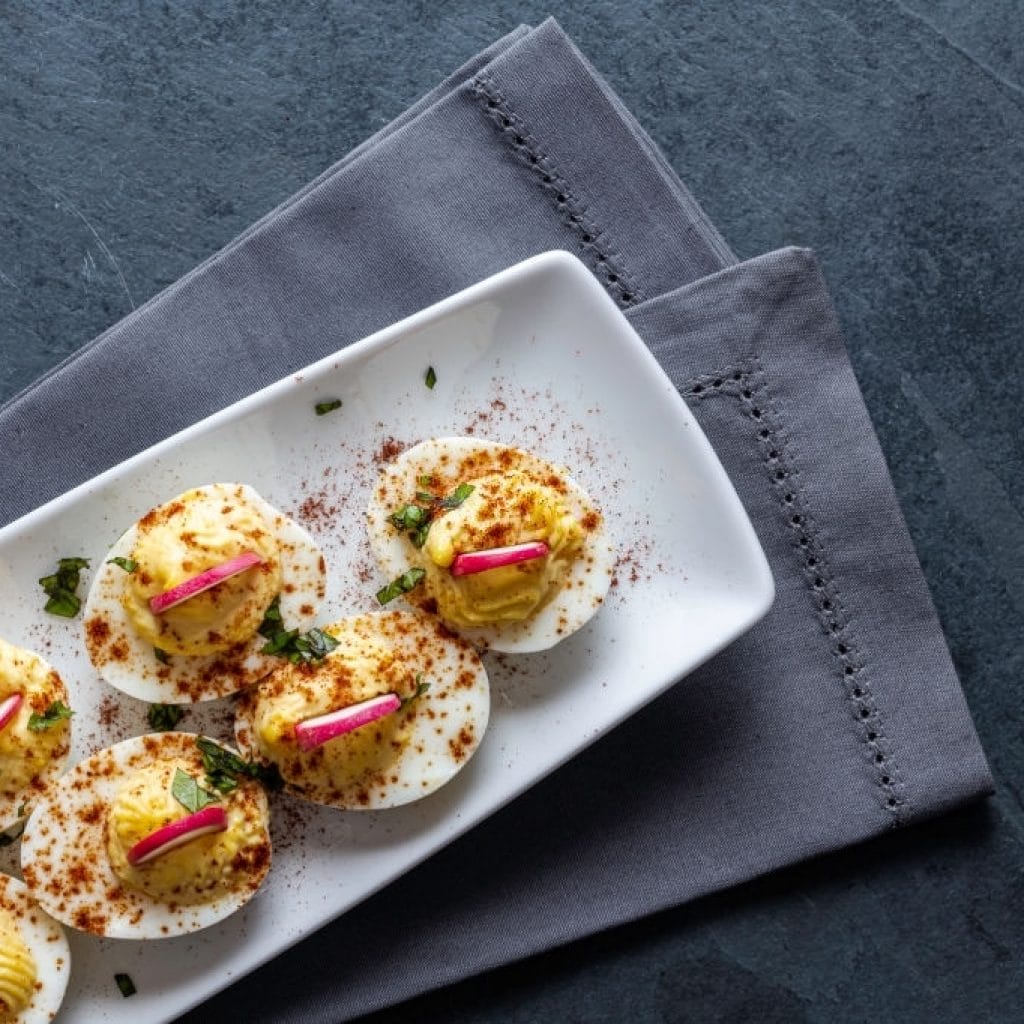 Are deviled eggs keto friendly?
The standard deviled egg recipe, found in any regular cook book and store bought deviled eggs are not necessarily keto friendly as they normally contain some additives that are avoided on both keto and low carb diets. But with some simple changse to these recipes, deviled eggs can be made suitable for both low carb and keto diets! You can also add a range of toppings such as salmon or prawns to spice things up.
How to store deviled eggs
You'll want to store these deviled eggs, in the fridge inside an air-tight container for food safety reasons. I recommend not using plastic wrap/clingfilm to cover them, as not only is it bad for the enviroment but it could also stick against the deviled egg filling. If you're serving the deviled eggs at a party, I recommend only removing them from the fridge just before serving to ensure they're kept cold, to help preserve the taste and to avoid any risk of food posioning.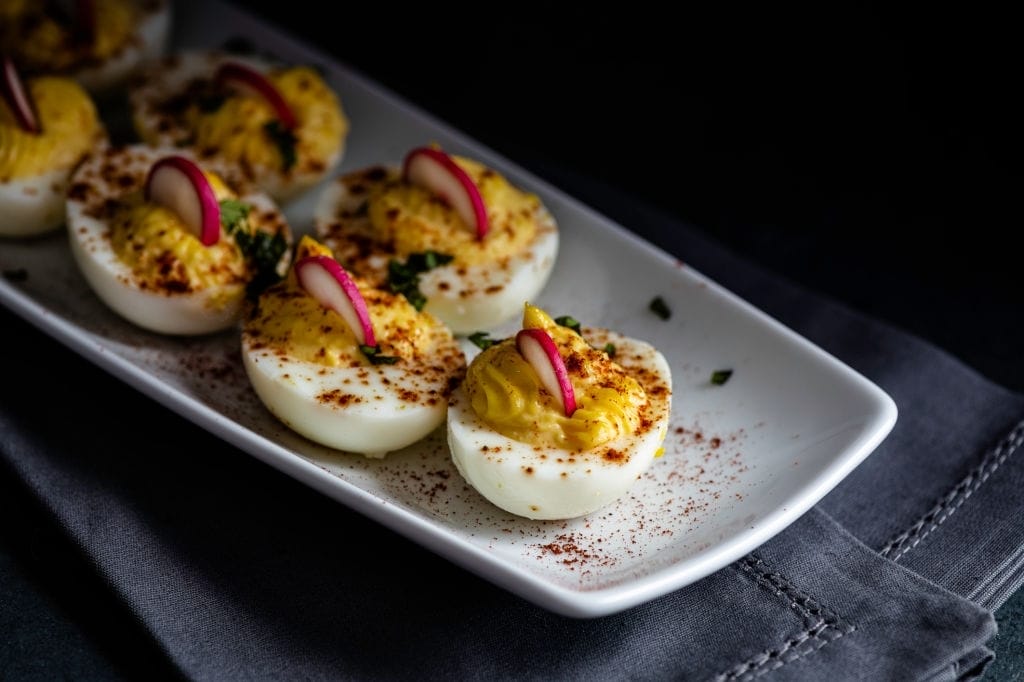 Deviled egg topping ideas
These toppings are all suitable for both keto and low carb diets!
Smoked Salmon & dill
Sliced radishes, paprika and chopped basil
Grated cheddar cheese & diced broccoli
Avocado, mashed into the yolk
Sliced olives
Diced ham
Bacon pieces & grated cheese
Low Carb Deviled Eggs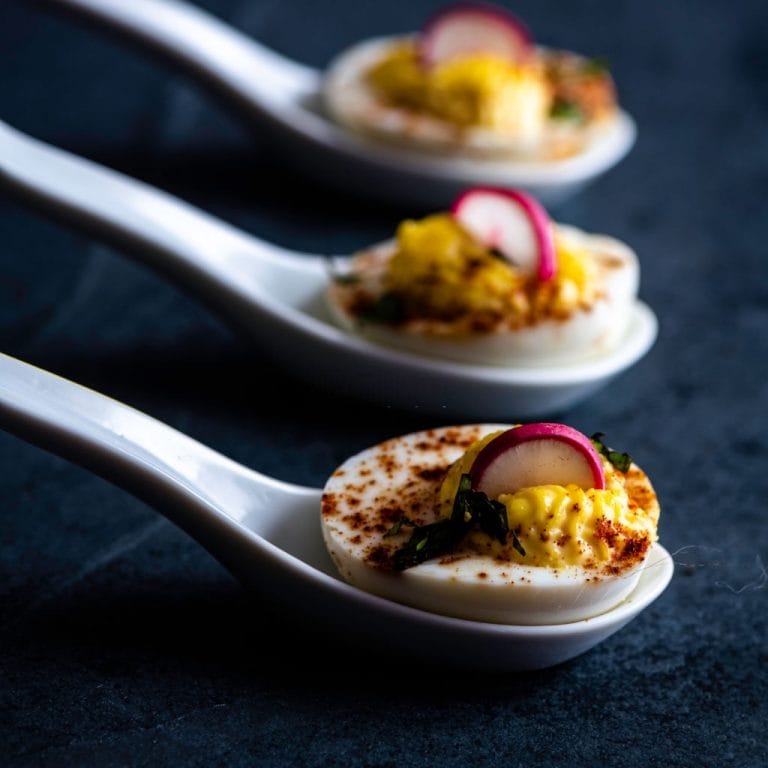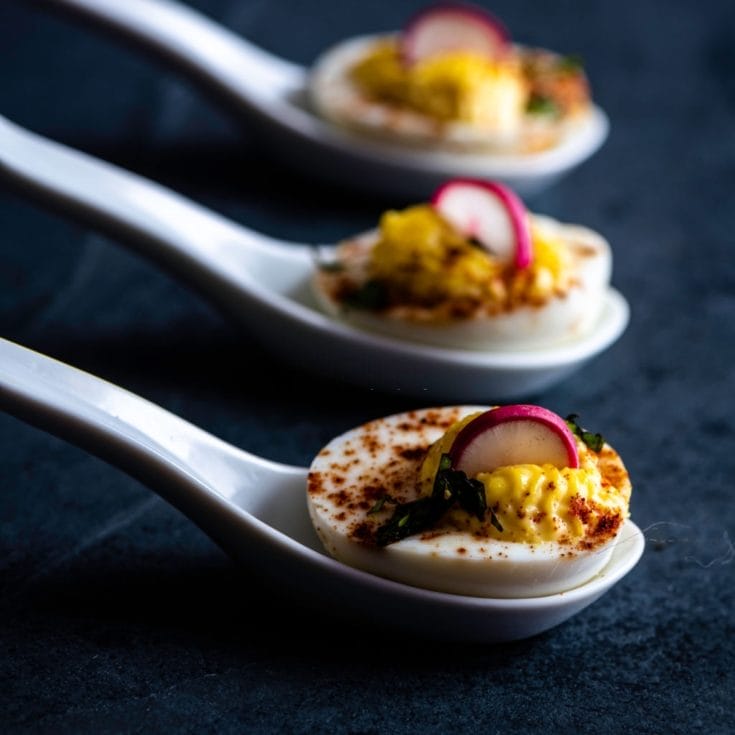 Ingredients
12 Eggs
90ml Mayonnaise
1 pinch pink himalayan sea salt
1 tsp tabasco
Instructions
Boil the eggs
1. First, you'll need to boil the eggs. You can either do this by using a saucepan, or an egg cooker. Add the eggs to a saucepan, cover with an inch of water.
2. Place the saucepan on the stove, over a high heat and bring the water to the boil. Once the water is boiled, cover the pan with a lid and turn the stove off.
3. Wait about 12 minutes for the eggs to finish cooking.
4. Remove the eggs from water, and allow them to cool. Once cooled, peel the eggs and cut them in half, scooping the yolk out as you cut them in half. Put the egg yolks in a bowl.
5. Place the egg whites on your serving plate.
6. Add the mayonnaise and tabasco to the bowl with the egg yolk, and mash together.
7. Use two teaspoons to scoop the mixture into each egg, and then top with your chosen toppins. We used sliced radishes, with smoked paprika and chopped fresh basil.
Notes
Topping Ideas
4-6 sliced radishes, with smoked paprika and chopped basil
12 cooked, and peeled shrimp (prawns)
12 strips of smoked salmon
Nutrition Information
Yield
12
Serving Size
1 Egg
Amount Per Serving
Calories

92
Total Fat

6.9g
Saturated Fat

1.7g
Carbohydrates

2.1g
Net Carbohydrates

2.1g
Fiber

0g
Sugar

0.8g
Protein

5.6g