Disclosure: This post may contain affiliate links that earn me a small commission, at no additional cost to you.
These sesame broiled chicken thighs are really simple to make but taste so good! They're really juicy and are a great way of getting in some protein.
This recipe does use soy sauce. While most soya isn't keto, as soy sauce is fermented the inflammatory properties are removed making it fine for a ketogenic diet. I recommend using a gluten free soy sauce but this isn't a specific requirement unless of course, you have to avoid gluten.
For the sugar-free maple syrup, I recommend using Bulk Powder's sugar free maple flavored syrups. 
If you're in the US, you'll need this Lakanto Maple Flavored Syrup.
Keto Low Carb Sesame Broiled Chicken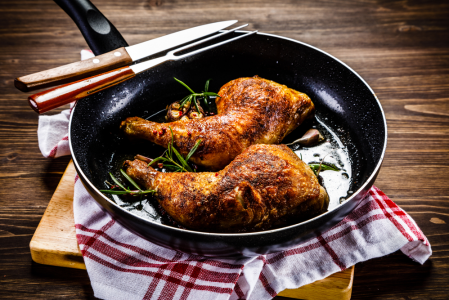 Prep Time

10 min

Cook Time

20 min

Total Time

30 min

Ready in

30 minutes

Yield

4 Servings

Serving Size

2 thighs

Energy

382 cal
Ingredients for Keto Broiled Sesame Chicken
Ingredients
8 chicken thighs
1/2 teaspoon salt
1/2 teaspoon ground black pepper
4 tablespoons gluten-free soy sauce
4 tablespoons sugar-free maple syrup
2 tablespoon sesame oil (toasted, or untoasted is fine)
2 teaspoon minced garlic
2 teaspoon red wine vinegar
1 teaspoon crushed red pepper flakes
For
1
Season the chicken with salt & pepper and set aside. 
2
In a large bowl, combine the soy sauce, sugar-free maple syrup, sesame oil, garlic, red wine vinegar and crushed pepper flakes. Mix until combined.
3
Place the chicken, skin side up, in the bowl, making sure to submerge it in the mixture.  Place in the fridge to marinate for 20 minutes.
4
Preheat the oven using the broiler setting. 
5
After 20 minutes, remove the chicken from the fridge and place the thighs skin side down on a baking tray or baking dish.
6
Place the dish in the oven, about 6 inches from the broiler. Broil for 5 minutes, keeping the oven door slightly open. Rotate the chicken after 5 minutes and broil for another 2 minutes.
7
Rotate the chicken again, and move the tray/dish to the bottom oven rack. Broil again for 8 minutes, with the oven door shut.
8
Turn again so this time the chicken's skin side up, cover with the rest of the sauce and broil for another 2 minutes with the oven door shut.
9
Remove chicken from oven. Using a meat thermometer, check the internal temperature of the chicken.  It should be at least 170f/76c. 
10
Leave the chicken to cool for 5 minutes before serving.
*If you don't want to use the caramel straight away, you can store it in a glass jar. If using erythritol you need to re-heat before using as the erythritol crystalises.
4 servings per container

Serving Size

2 thighs

Amount per serving

Calories

382

% Daily Value*

Total Fat

26.1 g

33.46%

Saturated Fat

6.4 g

32%

Cholesterol

115 mg

38.33%

Sodium

1471 mg

63.96%

Total Carbohydrate

1.9 g

0.69%

Dietary Fiber

0.4 g

1.43%

Total Sugars

0.4 g

Protein

33.1 g

66.2%

Vitamin D (Cholecalciferol)

0 IU

0%

Calcium

23 mg

1.77%

Iron

2 mg

11.11%

Potassium

338 mg

7.19%

* The % Daily Value (DV) tells you how much a nutrient in a serving of food contributes to a daily diet. 2,000 calories a day is used for general nutrition advice. ** Nutritional information is estimated based off of the ingredients I used. Make sure to check the nutritional values for your ingredients.