This side dish is not only delicious but super easy keto dish to make.  Asparagus, wrapped in bacon is sooo good. It is such a great combo, and offers a good source of fat, protein, Vitamin A and Iron.
By cooking the asparagus bundles in either an olive/coconut oil or butter you can up the fat content. The bacon supplies a good source of protein, and fat making these a great way of ensuring you're meeting your macros.
Bacon wise, any type will do. If you're on a budget, I recommend using cooking bacon. If you're in the UK, this is available in Asda and Tesco. You'll have to probably buy a few packs, and go through splitting it into thin and thick slices & freeze what you're not using straight away separately but at less than 60p per 500g, it's totally worth doing. You can use the thicker slices as bacon steaks, dice it, line baking trays for keto egg muffins and more.
 If you are using butter, I recommend using Kerrygold butter. If using oil, you can use either coconut, olive or avocado oil.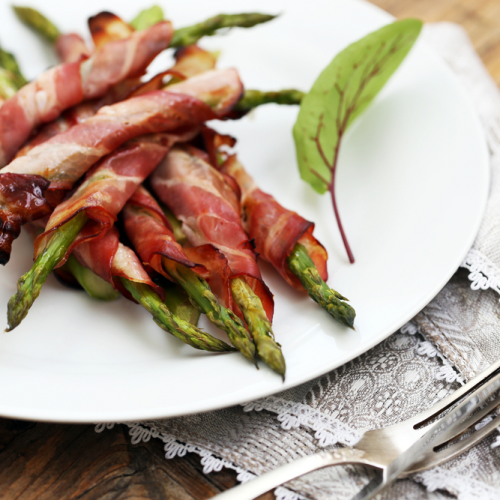 Keto Asparagus with Garlic
Quick, easy to make side dish that's not only keto but also vegan and gluten free.
Ingredients
8

Asparagus

4 to 8

rashers of Bacon

4

tbsp

Extra virgin olive oil

You can also use butter, or coconut oil

4

Crushed Garlic Cloves

You can also use 4 tablespoons of lazy/minced garlic.

Pinch

Salt
Instructions
Use some of the oil, and oil a baking tray/dish and preheat the oven to gas mark 6/400f/200c



Wrap the asparagus in the bacon, in bundles of 1 or 2 asparagus per 1 strip of bacon. You'll need more or less bacon depending on how many asparagus spears you use per bundle.

Place the bundles on the oiled baking tray, and drizzle some oil over the bundles, then sprinkle the salt over them.

Place in the oven and bake for around 15 to 25 minutes, depending on the thickness of your asparagus.
Notes
Nutritional values are based on 2 asparagus spears with 1 bacon rasher, per bundle.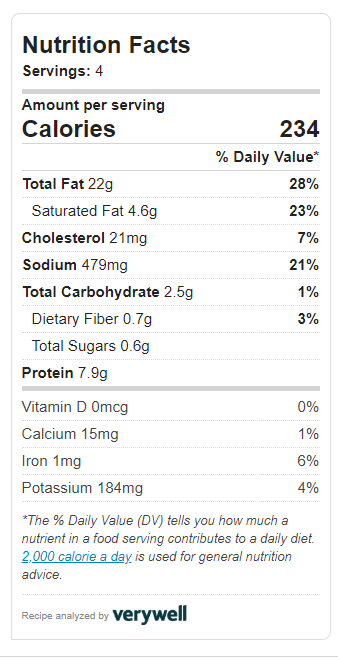 [pinterest-image message="A delicious keto-friendly dish, made with asparagus and bacon. Perfect as a side dish or part of a main. Makes a great keto lunch or dinner. This low carb recipe is a great source of fat and protein, plus asparagus is packed with vitamins. " image="https://ketoix.com/wp-content/uploads/2019/05/keto-recipe-2.jpg"]