Chia pudding is super easy to make, with 3 main ingredients – dairy-free milk, chia seeds and liquid stevia. It's a great breakfast, as you can prep it the night before and leave in the fridge over night.
Chia seeds are amazing, as they're packed with calcium, magnesium, iron and potassium. Making them a great way to get in some mineral and electrolytes, which is super important on the keto diet. The seeds work well as they absorb some of the milk, thickening and making the mix more jello/jelly-like.
Milk, Toppings & Flavorings Ideas
I recommend adding some topping and flavouring combo's to your chia pudding to make it even more delicious. You can also mix it up a bit by using different kinds of non-dairy milk to create different flavours.
When using flavouring, you'll want to mix it into the chia seed milk mix so it gets absorbed into the seeds. Here's some combo's I love:
Coconut milk + blueberries + desiccated coconut
Almond Milk + Matcha powder as flavouring + Strawberries & Coconut Toppings
Almond or Coconut milk + Strawberries + Raspberry toppings
Almond milk + cocoa as flavouring + hazelnut topping
Almond milk + cocoa as flavouring + peanut butter topping
Peanut butter + raspberry topping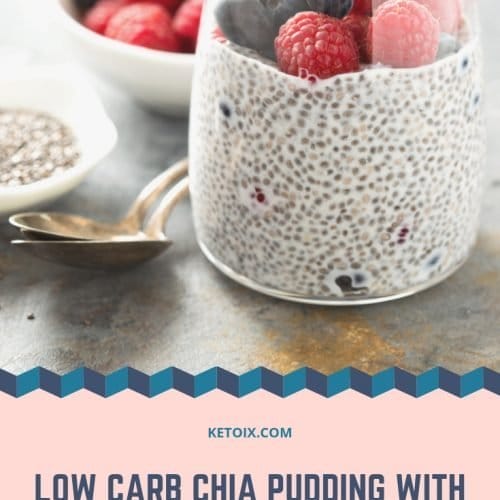 Keto Chia Pudding
Super easy & simple to make, this is the ultimate to the best chia pudding
Ingredients
The Chia Pudding
2

tbsp

Chia Seeds

1

Cup

Unsweetened almond milk

Any dairy-free milk works fine but I love using almond milk.

1

Squirt

Liquid Stevia

1 squirt or drop of liquid stevia is enough

1

tsp

Flavorings (Optional)

See the description for some ideas.
Toppings (optional)
Berries such as strawberries, blueberries, blackberries

Chopped nuts such as walnuts, hazelnuts, coconut
Instructions
Put the chia speeds along with the dairy-free milk into a container such as a glass jar, bowl, or jug.

Squirt the stevia into the chai seed milk mix, and if using matcha add this at the same time and mix until combined.

Leave in the fridge overnight or for about 12 hours

When set, the chia seeds will have absorbed some of the milk causing the mix to become thicker. When this has happened, either enjoy the pudding as is or serve with some berries. I love using a mix of strawberries and raspberries with mine.
Notes
Calories are based on just the chia seed pudding with unsweetened almond milk.
[pinterest-image message="The ultimate guide to the best low carb chia pudding + topping ideas. The perfect keto breakfast or midday snack. #keto #lowcarb #ketoix #chiapudding #healthyeating #fatbombs #ketodiet #ketofood #ketobreakfast #food #healthyfoodrecipe #dietrecipe #ketodietrecipe #ketogenicdiet #lowcarbfood #lowcarbrecipe" image="https://ketoix.com/wp-content/uploads/2019/05/keto-recipe-1.jpg"]