These keto scones are really yummy, and are great when combined with some clotted cream. They're keto friendly, sugar-free scones made with almond flour and coconut flour using a cast iron skillet! There's no added sugar in this keto scones recipe – plus the chocolate chips are sugar-free as well! A keto friendly recipe, perfect for breakfast or snack time!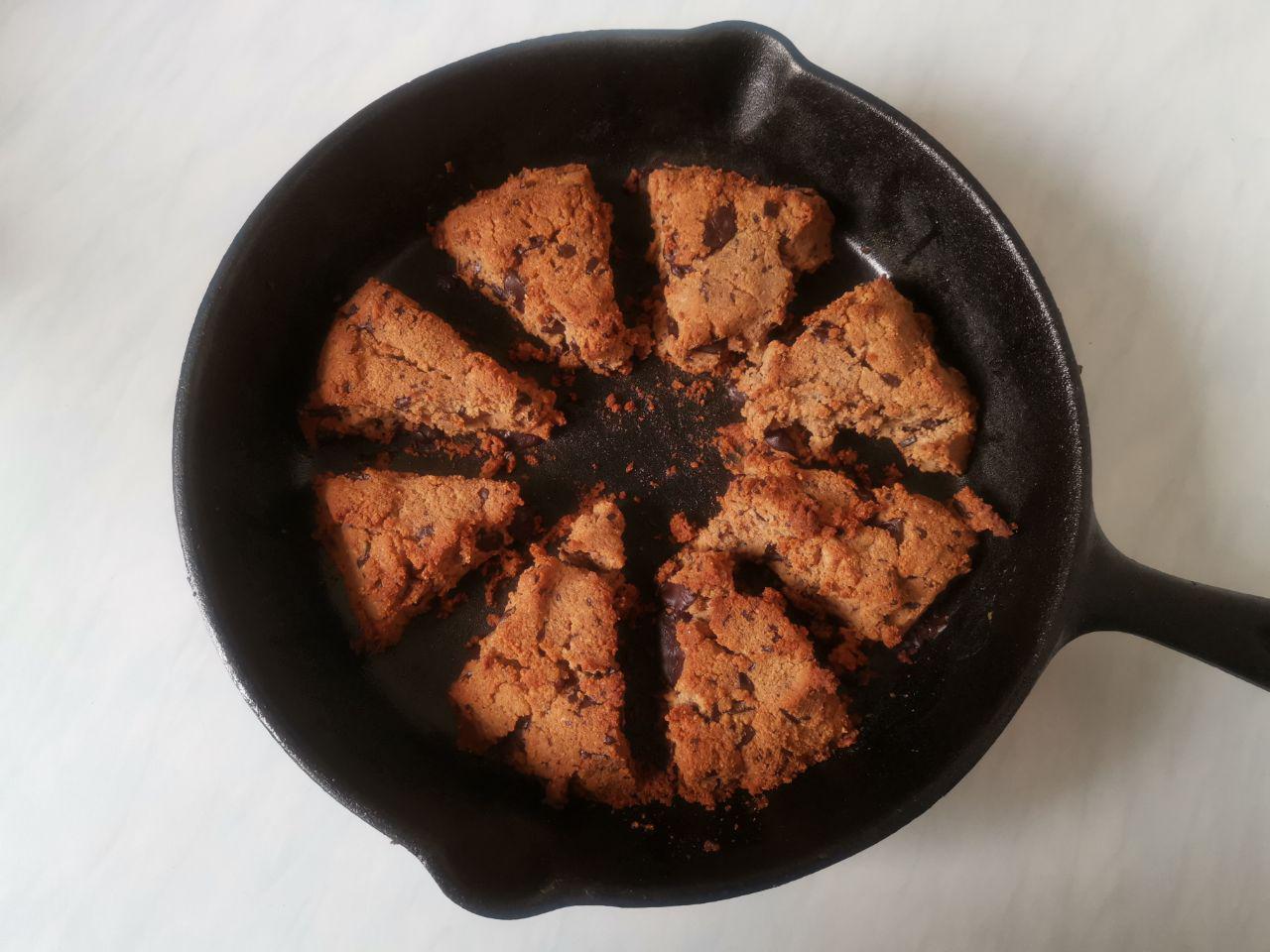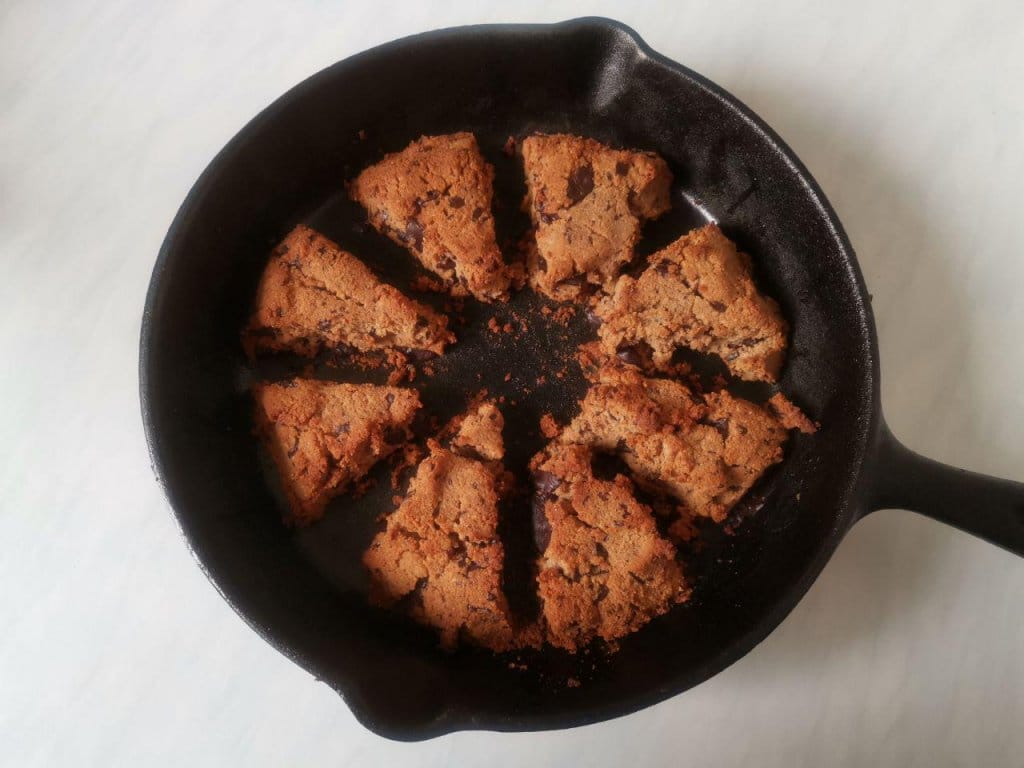 Is coconut flour keto?
Coconut flour is suitable on a keto diet, and helps add a natural sweetness to the scones. It also absorbs liquid, so it's great for making sure the scones don't end up soggy. Coconut flour is also a great alternative for those who can't have nuts or nut flours. It's higher in fiber and protein than other gluten-free flours and some other keto-friendly flours.
Coconut flour does have a higher carb count than almond flour, so I recommend only using small amounts of it. Even if you are allergic to nuts, I wouldn't recommend relying solely on coconut flour while following a ketogenic diet. It's best to combine several low-carb flours together (such as nut flours like almond, and pecan), which can help you meet your daily macros. If you're unable to eat nut flours, then you can look into seed flours sun as sunflower seed flour or linseed flour.
Tips on baking these keto-friendly scones:
If you hate the taste of coconut flour, you might want to use a bit less and increase the amount of almond flour being used. The texture might change a bit but this can work well if you are unable to eat or dislike coconut.
These scones use whey protein, if you are a vegetarian then you can substitute this for a vegetarian protein powder. If you're vegan, substitute the egg for a vegan alternative, and use a vegan protein powder.
Remember, if you have a dog, do not use xylitol, as its super poisonous for doggys. Be safe and use erythritol or monk fruit (not easily found in the UK) instead.
Yield: 8
The Best Low carb Keto Chocolate Chip Cast Iron Scones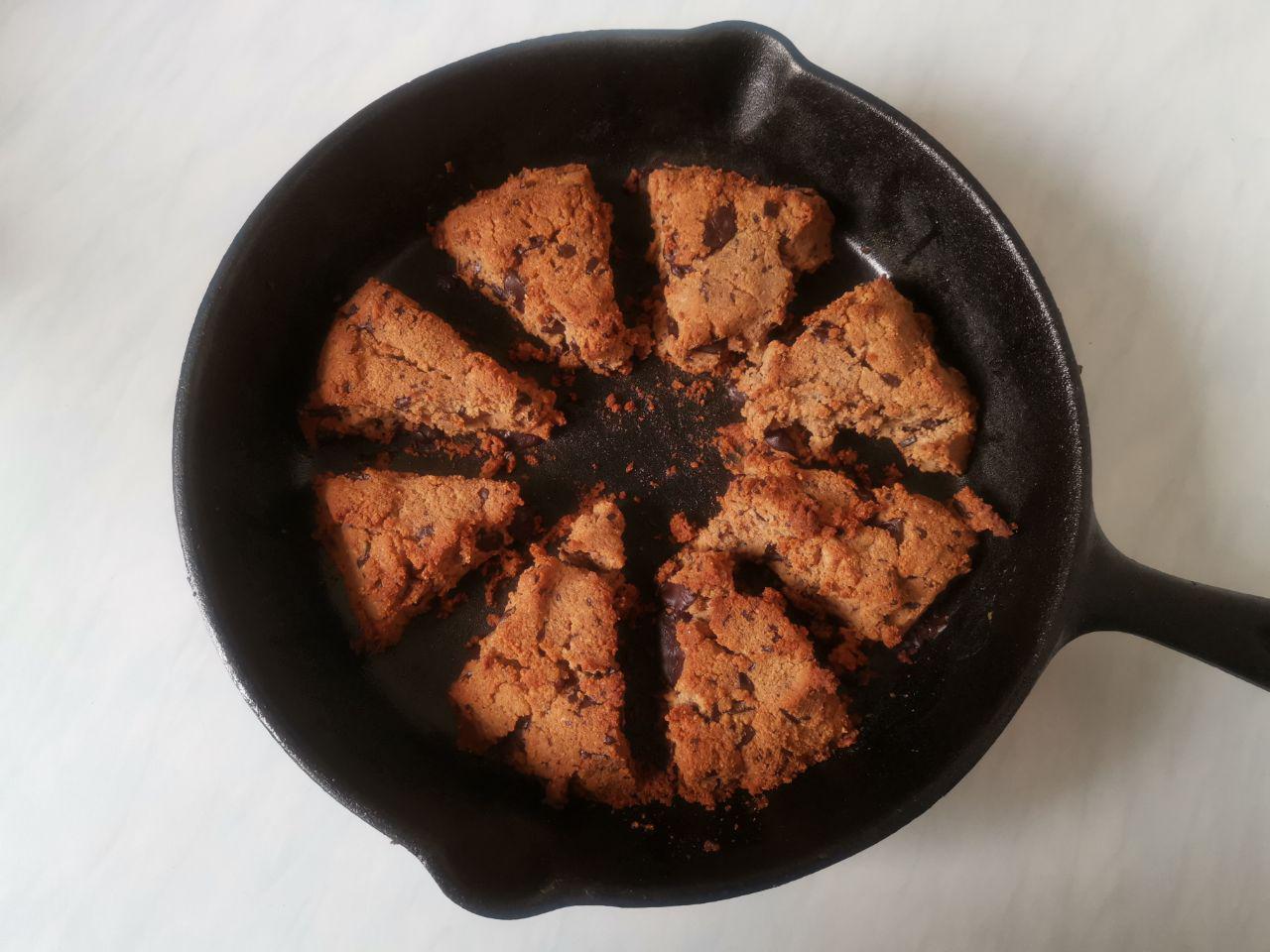 Low carb keto scones with sugar-free chocolate chips, made using almond flour, and coconut flour.
Instructions
Preheat oven to Gas Mark 5 / 375F/191C

Grease a cast iron skillet with a oil suitable for high heat such as avocado or olive oil.

Mix all the dry ingredients together.

If you are using Lindt 90% chocolate, you will need to chop a few squares of the bar up into some small chunks. Then mix in. If using sugar free chocolate chips, you can mix it in straight away.

Then mix in wet ingredients, until thoroughly combined. This should form a dough.

Next you need to shape the dough into a circular shape and place it in the centre of the cast iron skillet. If the dough is quite high you might want to gently flatten it out a bit.

Slice the dough into 8 roughly equal pieces, and then spread them apart slightly.

Bake in the oven for 25 minutes, until golden brown. When you poke the scones with a fork or cake tester, it should come out clean with no dough stuck to it.
Nutrition Information
Yield
8
Amount Per Serving
Calories

185
Total Fat

14g
Carbohydrates

9g
Net Carbohydrates

3.7g
Fiber

5.3g
Sugar

1.3g
Protein

8g
Nutritional values are estimated based off of the ingredients & brands I used. Make sure you check your own ingredient values with an app such a carb mananger.