These pancakes are super fluffy, and 100% suitable for a keto and low carb diet. They're free from grains, and gluten with no-added sugar.
If you're vegan, you can easily make these suitable for your dietary requirements by swapping the eggs to a vegan egg-replacement.
The Low Carb Sweeteners
For this recipe, I'm recommending you use either erythritol or xylitol. These are both easy to obtain in Europe and the USA. In the US, you'll normally find erythritol retailed under the brand name Swerve. You could also try using Monk Fruit Sweetener, or Stevia. Whatever you choose to use sweetener wise, just make certain it does not contain any fillers such as Maltodextrin or sugars such as dextrose or fructose.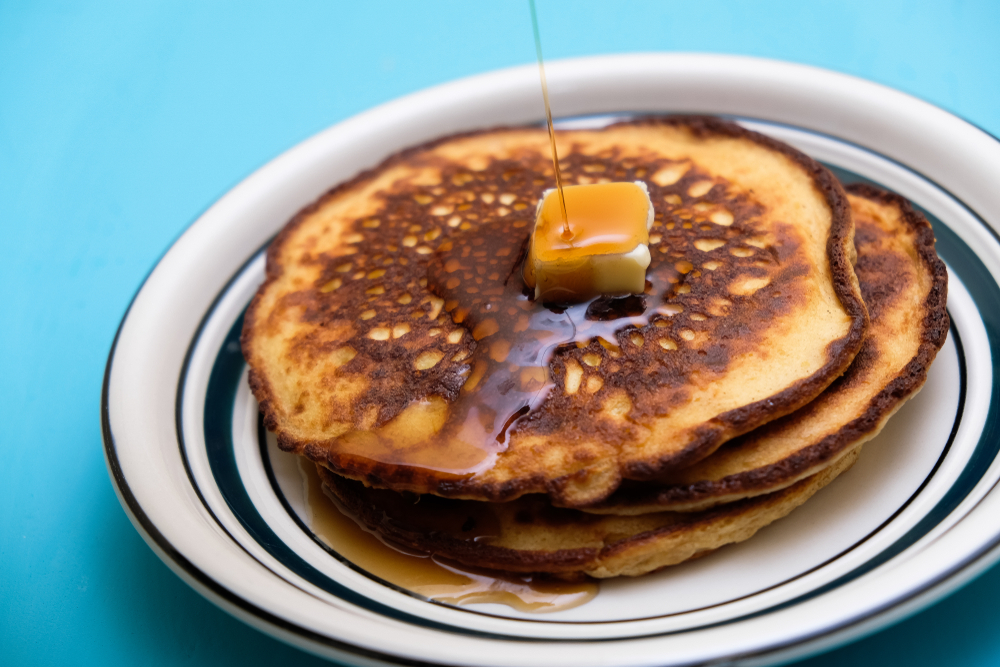 The Low Carb Flour
For this recipie, you'll need to use a combination of almond flour and coconut flour.
Almond flour can get quite expensive and be hard to obtain in some areas, so if you're on a tighter budget, you can use ground almonds. The texture will be slightly different but they taste the same.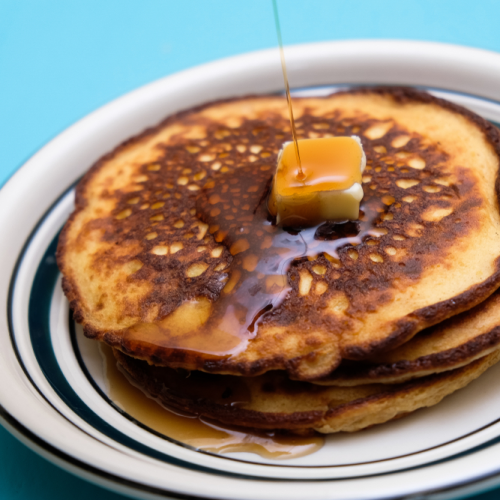 Super Fluffy Keto Pancakes
These pancakes are so good! They're super fluffy, and free from added-sugar and gluten. You can easily make them vegan by substituting the eggs for a vegan-egg replacement.
Ingredients
The Pancakes
1

cup

Almond Flour

You can also use ground almonds.

4

tbsp

Coconut flour

1

tsp

Gluten-free baking powder

Normal baking powder normally contains things like maize starch, which increases the carb content.

2-5

tbsp

erythritol or xylitol

You could also use stevia or monk fruit. If you have a dog, do not use xylitol. Vary quantity based on sweetness of the sweetener you're using.

6

large eggs

To make the recipe vegan, use a vegan egg replacement.

1/2

cup

Unsweetened Almond or Coconut milk

Check your milks for rice, and maltodextrin. Do not use Alpro coconut milk as it contains rice. Sainsbury's and Aldi's almond milk contains maltodextrin so avoid them.

2

tsp

cinnamon

Optional
Topping Ideas
Frozen or fresh berries

Bacon with sugar-free maple syrup

Butter with sugar-free maple syrup
Instructions
Grease and then preheat a frying pan or skillet, on a low to medium heat.

Add all the dry ingredients to a large mixing bowl and combine.

Add in the eggs/egg replacement, and milk, and whisk thoroughly.

To cook the pancakes pour some of the batter into the preheated frying pan/skillet, and then cook for 2-3 minutes, on each side, ensuring the pancakes are a golden brown.

Once cooked, you can either eat them immediately or allow them to cool and store in the fridge. You can also freeze them for up to 2 months, in an air tight freezer safe container.