If you live in the USA or are visiting on vacation and want to pick up some keto snacks, I really recommend shopping on Walmart. Walmart has an amazing selection of low carb keto friendly products for sale on their website such as snacks, cooking ingredients, and cereals. Some of these may also be available in store.
In this guide I'll cover my faveorite snacks at Walmart, that are suitable for keto diets and low carb diets.
Equate Keto Peanut Butter Fat Cups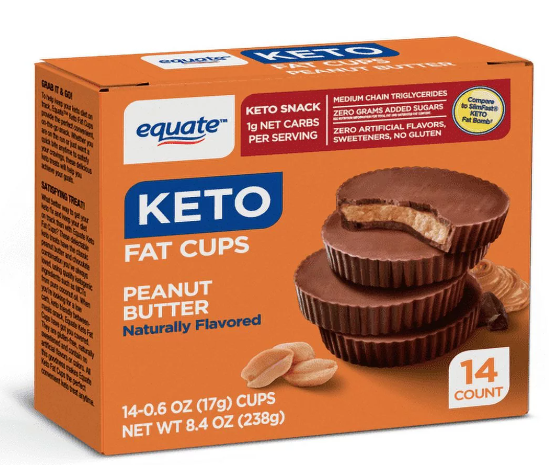 These peaunt butter cups are a great treat. If you miss the Reese's peanut butter cups, then I recommend grabbing these. They're also a good fat bomb, containing 8g of fat with only 1g of net carbs and only 90 calories. The fats in these peanut butter cups come from MCT oil, so you can also be sure that it's a good source of healthy fat that'll assist in ketosis.
The peanut butter cups are available online, and in store.
These peanut butter fat cups contain: Milk chocolate (cacao butter, erythritol, cacao liquor, dry whole milk,inulin, nonfat dry milk, ammonium phosphatide, vanilla flavor, salt, stevia), medium chain triglycerides oil blend (palm oil, coconut oil), peanut butter, inulin, peanut flour, erythritol, milk protein isolate, peanut oil, stevia leaf extract, salt
Keto Factory Almond Biscotti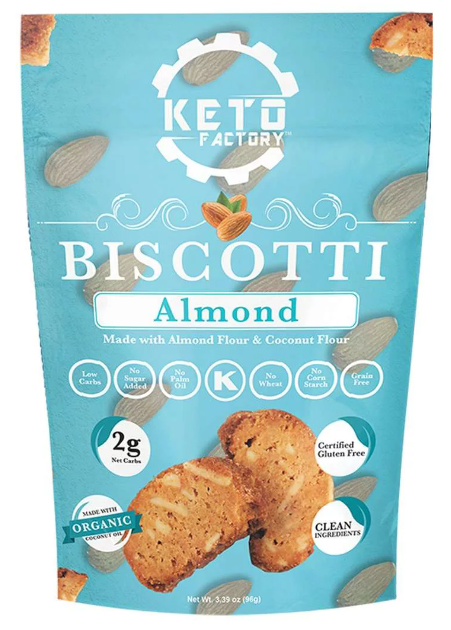 Biscotti is normally quite high in carbs and sugars, but these are keto friendly. Made from almond flour, coconut flour and coconut oil they contain only 2g of net carbs per serving and 13g of fats. The packets are quite small though so they're a bit expensive.
The biscotti is available for online through Walmart's website.
Ingredients: Almond Flour, Organic Coconut Oil, Erythritol, Coconut Flour, Inulin, Cocoa, Egg White Dried, Almonds, Baking Soda, Natural Almond Flavor, Guar Gum, Vanilla Extract, Stevia Extract
Pecan Nation Salted Pecan Halves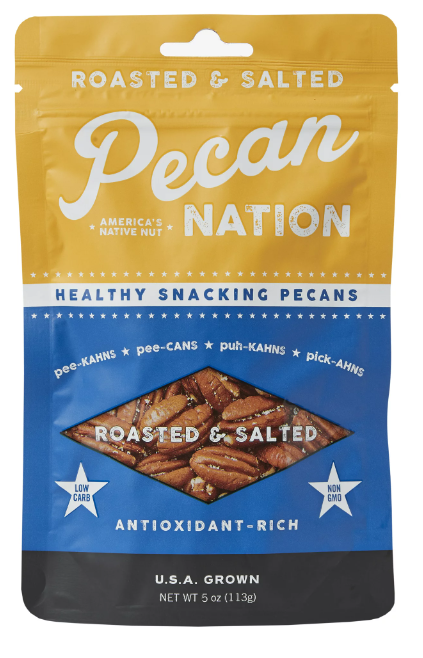 These pecans are a great snack, and can easily be added to a lunch box, snack box or used to top salads, brownies, etc. You could even make them into caramalised pecans. They do contain peanut oil though so not suitable for those with peanut allergies.
These pecans are sold in some Walmart stores and online.
Ingredients: Pecans, Peanut Oil, Salt
Quest Protein Bar, Low Carb
Quest protein bars are a great way of getting in your protein in take, whilst also enjoyin a sweet treat without the sugar. They contain 20g of protein, 4g net carbs and only 1g of sugar per bar. They come in a variety of flavours such as mint chocolate and peanut butter. If you're working out they're a great way of getting that post-workout protein boost without all the added sugar normally found in protein bars. I really do recommend adding these to your keto Walmart shopping list.
The mint chocolate bars are available online, whilst the peanut butter bars can be purchased in a Walmart store.
Mint chocolate bar ingredients: Protein Blend (Milk Protein Isolate, Whey Protein Isolate), Soluble Corn Fiber (Prebiotic Fiber), Water, Almonds, Cocoa Butter, Cocoa (Processed with Alkali), Natural Flavors, Erythritol, Palm Oil, Dextrin, Sea Salt, Sunflower Lecithin, Sucralose, Color (Fruit Juice, Turmeric), Coconut Oil, Xanthan Gum, Baking Soda, Peppermint Oil, Steviol Glycosides (Stevia)
Peanut butter bar ingredients: Protein Blend (Milk Protein Isolate, Whey Protein Isolate), Peanuts, Palm Kernel Oil, Allulose, Erythritol, Soluble Corn Fiber, Sodium Caseinate, Cocoa Processed With Alkali Water. Contains Less Than 2% Of The Following: Natural Flavors, Salt, Sunflower Oil, Baking Soda, Peanut Oil, Sucralose, Stevia, Sweetener, Sunflower Lecithin. Contains: Milk, Peanuts.
:ratio KETO Friendly Toasted Almond Crunchy Bars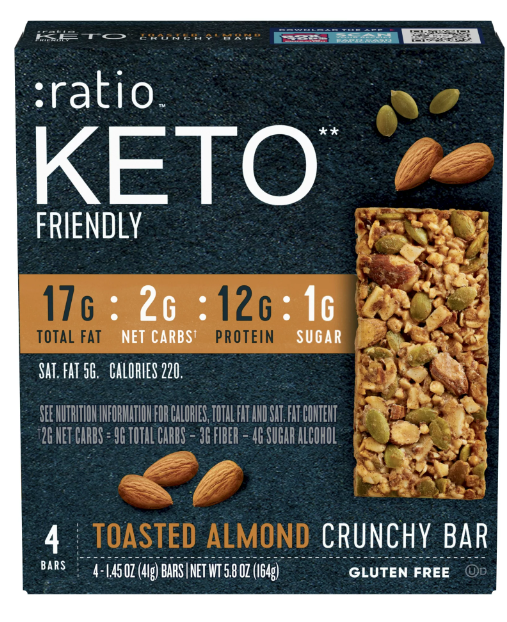 If you love nutty trail bars, or want something crunchy to snack on these keto friendly crunchy bars are a great option. They're really tasty, and contain 17g of fat whilst only containing 2g of net carbs so they're a great fat bomb. Plus they're made using healthy ingredients such as almonds and pumpkin seeds.
These bars are available in most Walmart stores. I really recommend adding these to your keto grocery shopping list and pick them up on your next trip to Walmart.
Ingredients: Almonds, Pumpkin Seeds, Soy Protein Isolate, Coconut Oil, Erythritol, Whey Protein Isolate, Chicory Root Extract, Cinnamon, Sea Salt, Stevia Extract, Natural Flavor, Almond Extract.
Wonderful Roasted & Salted Pistachios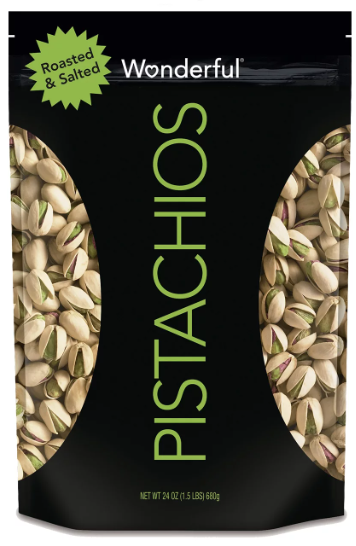 Pistachios are a great way of getting in unsaturated healthy fats and potassium. They're a great addition to a snack box, lunch box or just to enjoy nibbling on whilst watching a movie. Chop them up and you can sprinkle them on cakes, brownies, or even blend them to use in an ice cream recipe.
Wonderful's pistachios are grown in California, and are free from GMO's. They're also Kosher and Hala certified. They also only use two ingredients; pistachios and sea salt so you can be sure you're getting good, high quality pistachios.
These pistachios can be picked up in most Walmarts and ordered online.
Quest Protein Cookie, Chocolate Chip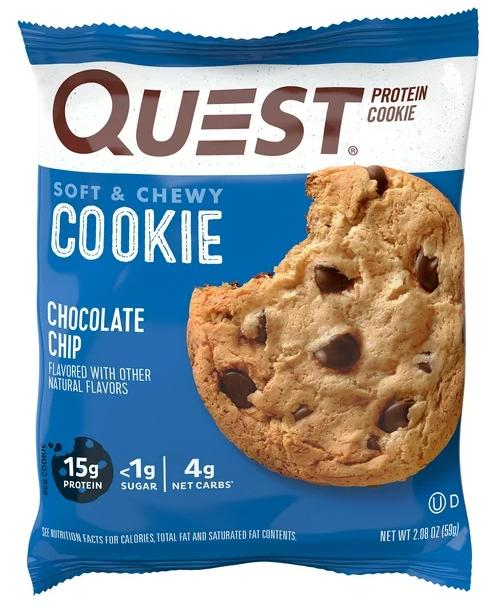 If you're craving cookies, and don't fancy making your own I recomend getting these Quest cookies. They make for a great sweet snack and only contain 4g net carbs. I love adding these to my lunch box or enjoying them as a keto post workout snack due to their high protein content (they contain 15g of protein!).
Due to supply chain issues, the cookies may contain soy so be aware of this if you have allergies or are avoiding soy.
The Quest Protein Cookies are available in store and online.
Ingredients: Protein Blend (Milk Protein Isolate, Whey Protein Isolate), Butter (Cream, Natural Flavor), Soluble Corn Fiber, Erythritol, Palm Oil, Unsweetened Chocolate, Calcium Caseinate, Natural Flavors, Water, Cocoa Butter, Contains Less than 2% of the Following: Sunflower Lecithin, Sea Salt, Baking Soda, Sodium Caseinate, Xanthan Gum, Steviol Glycosides (Stevia).
Keto Farms Cookie Dough Bites with Chocolate Chips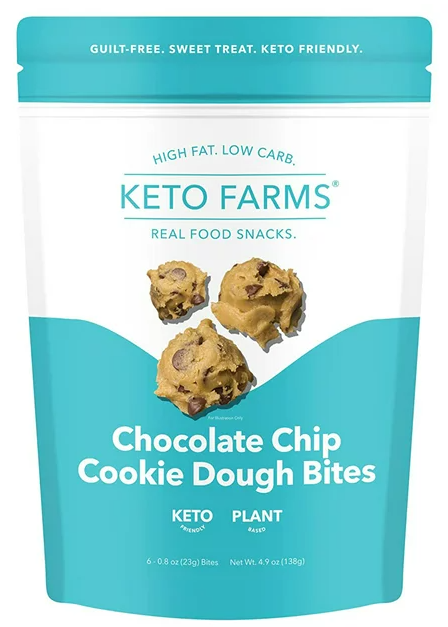 These cookie dough bites made by Keto Farms, are a decent low carb snack (but not clean keto!). They aren't completely keto friendly as they do contain cane sugar. But they're still much better than your typical cookie dough bite with only 4g of sugar per serving. I've included them in this list as they're still a decent snack for low carb dieters and those following a more relaxed dirty keto diet. Besides the cane sugar, all other ingredients are keto friendly.
Ingredients
Almond Flour, Almond Butter, Cane Sugar, Semi-sweet Chocolate Chips (Cane Sugar, Unsweetened Chocolate, Cocoa Butter), Allulose, Chicory Root Fiber, Sunflower Lecithin, Natural Flavors, Vanilla Extract, Sea Salt, Monk Fruit Extract, Stevia